As homeschoolers, our job is to teach our children at their level, in every subject, all the time.   It's difficult to determine what "at their level" means, because even if they have finished their math book, that doesn't mean they are ready for the next level.  What if they missed a critical concept?  What if it was so easy for them they should really skip the next level?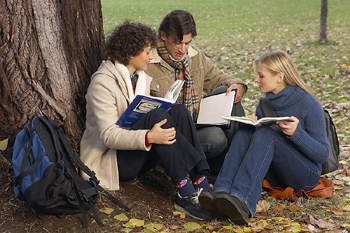 Colleges feel the same way.  They want to teach young people at their level in every subject all the time.  Unfortunately, they can't determine "at their level" based on SAT scores or transcripts.  With so many public and private schools having their own standards and sequences, kids with the same-looking transcripts can have widely varying skills.  Some kids come to college with stellar records but lack-luster preparation in reading, writing, math, etc.
What to do, what to do?  Often, colleges may start the year with a placement test to solve this problem.  College placement tests are usually quite different than CLEP or AP.  They were developed for this generation of students entering college  with an accredited high school transcript but without the ability to do college level work.
These placement  tests are often given during or before the first week of college to decide whether students need remedial help in reading, writing, or math.  They will help the college in placing children in the proper level of foreign language, science, or other subject area.  Those placement  tests usually do not include college credit or the financial benefit of speeding the college degree.  On the other hand, extremely poor performance may lengthen the time in college if remedial help is required. Again, these tests have become common as the result of the poor quality of high schools in general.  If your child is reasonably well-educated, I don't think you will need to worry about that.
At some colleges, these tests are required by every freshman.  Other colleges will use SAT or ACT scores for a portion of the placement.  One common college placement test is the COMPASS placement test.  Some college and professors will create their own placement tests, and require a passing grade to register for their class.
Florida recently enacted such a
state-wide placement test
. Their press release says, "New Placement Test Designed to Help Florida Increase College Graduation Rates:  Florida postsecondary readiness test to better measure college readiness skills and placement."
This highlights the fact that a placement test may be a better measurement of college readiness than an accredited transcript from a public or private school.  For more about that, please see my article on accreditation.
The press release also underscores the benefits of teaching students at their level, citing improved college graduation rates.  Homeschoolers can keep their students working at their level and also see wonderful benefits.
Keep your homeschool curriculum challenging but not overwhelming. Understand that college placement tests may be used to do the same thing at the university level.

Check out my new profile on The Old Schoolhouse's Speakers Bureau, and then ask you conference coordinator to invite me to come speak to your conference in 2011!