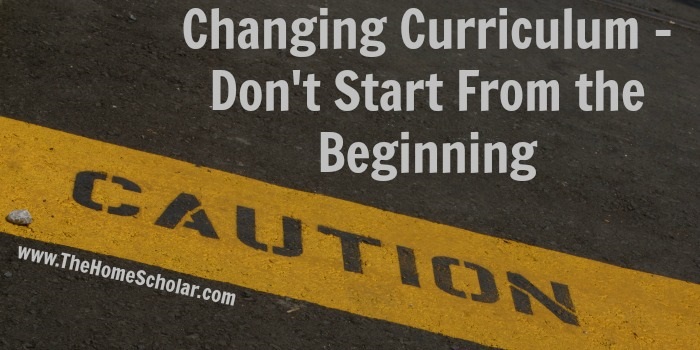 Changing Curriculum - Don't Start from the Beginning
One problem I sometimes see is parents who repeatedly start over every time they buy new curriculum. That's what I want you to avoid. Instead, keep your focus on "challenging, not overwhelming." Their work shouldn't be boring, and they should be actively learning, but the work should also be easy enough so they can be successful - and not in over their head.
If you have needed to start over in math, don't start at the very beginning. Give them some credit for remembering bits and pieces of what they have learned before, using the prior curriculum. Just because they are starting a new curriculum doesn't mean they learned NOTHING previously. If you keep starting over, you will never reach your goal! Instead, you want to switch curriculum in a way that maintains some forward momentum throughout the subject.
Let me give you an example. If you changed math curriculum, and now you are using Saxon math, you don't need to start at first grade math. Choose a placement test that might be appropriate, and see what book they are placed into. Start with that textbook, but try to figure out where in the textbook they should begin. Here's how to do that. If they can pass the test for a chapter in Saxon, don't make them repeat that lesson. You don't need to needlessly slow them down in math, just give them the chapter test. If they get 80% or better on the test, skip those lessons. The next day, give them the NEXT chapter test. If they get 80% or better on the test, skip those lessons and go to the following chapter test. Eventually they won't pass the test anymore. At that point they will be actively learning, and that's what you want. You want to keep them challenged, not consistently reviewing or overwhelmed. One nice thing with Saxon is that they review in every single lesson, too - they use a circular learning style. So once you get into the place where your children are actively learning, they will still be getting review problems every day to fill any gaps they have.
It's only very, very rarely that you need to completely start over. Give credit where credit is due. Even if your child is starting with a new curriculum, you can still give them credit for the work they have already done in the subject.