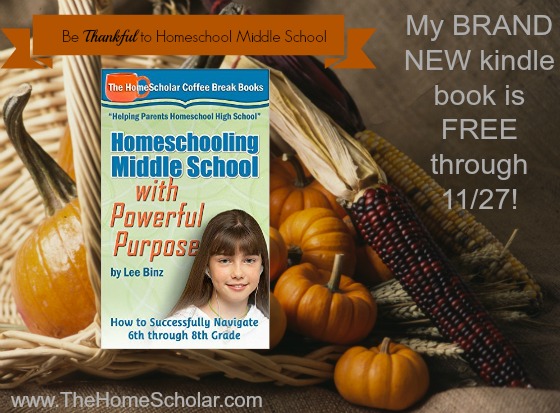 NEW Kindle Book: Homeschooling Middle School with Powerful Purpose
Middle school is a time when homeschool parents often get frightened and quit. But now is no time to panic! Middle school can be the sweetest, most rewarding time to homeschool! Learn strategies for gently guiding your preteen through the physical, intellectual, and social changes that come with this age. You will be able to reconnect with your child and be encouraged and energized to prepare them for high school and beyond.
Middle school doesn't have to be the train wreck you remember or have seen depicted on TV! Homeschool parents can shape and mold children through the middle school years, even during bursts of hormonally charged awkwardness. You can ensure your child learns appropriate behavior in the safety of your own home. This book will give you practical strategies to handle preteen academic and emotional challenges.
As a book in my Coffee Break Book Series, it is designed especially for parents who don't want to spend hours and hours reading a 400-page book on homeschooling high school, each book combines Lee's practical and friendly approach with detailed, but easy-to-digest information, perfect to read over a cup of coffee at your favorite coffee shop!
Never overwhelming, always accessible and manageable, each book in the series will give parents the tools they need to tackle the tasks of homeschooling high school, one warm sip at a time.
Download Homeschooling Middle School with Powerful Purpose for FREE 11/23-11/27!
Please take a moment to download
Homeschooling Middle School with Powerful Purpose
for free, through November 27!  It's a short read with simple strategies to help you homeschool your middle school student!
When you are done with the book, please leave a review on Amazon too!  We really count on your reviews - thank you so much for taking a moment to let me know what you think of this new book.