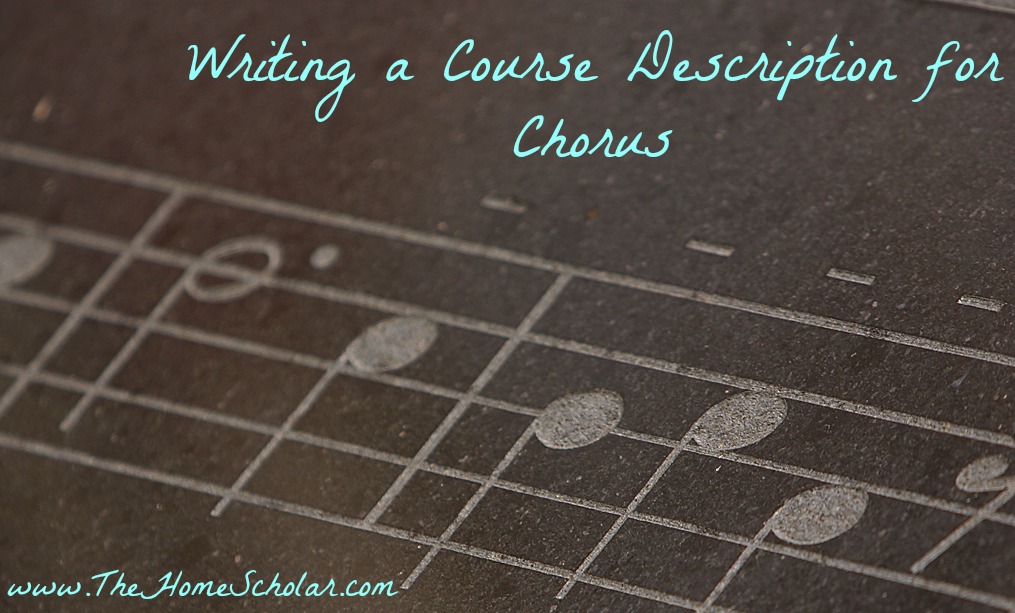 Writing a Course Description for Chorus
Cindy was working on her course descriptions (go, team, go!!!) and got stuck with music class.
  I would like to count all the singing our youth group does as Choir but not sure how to write it on a course description or on the transcript. How can I best represent this in a transcript and Course description. Oh yeah, they do a drama in the performance too!
It's so common for kids who love one kind of fine art (like singing) to love LOTS of fine arts (like drama.) Choir is a GREAT fine art - that's what I took in high school, same course description for all 4 years, and I got a total of 4 credits during high school for it. I had friends in high school that took choir, band, and orchestra every single year - and earned 3 high school credits in music every single year. Feel free to put choir and drama both on your transcript.
First, read this review of the
3 Ingredients of a Great Course Description
When you get stuck, try to find a high school course description from a public school. I found a
choir course description from Antigo High School
in Wisconsin, a public high school, but you can pilfer wording from any school with a similar class, and then modify it to fit your needs.
TREBLE CHORUS
Grades 9 – 12
1 Credit
1 Year
No Prerequisite
The Treble Chorus is a women's chorus that sings a variety of music. It is open to any interested female in grades 9-12. All females in the choir program will be placed into Treble Chorus their freshman year. All students with no choir experience must have a voice placement interview with the instructor before being allowed to participate. Focus will be placed on proper vocal production, sight-reading, diction, music theory, and functioning as a musical ensemble. Required concerts for the Treble Chorus include: the Fall Concert, Holiday Concert, Clinician and/or Large Group Contest, and the Spring Concert. Other performances are possible during the course of the school year. The Treble Chorus meets daily.