Some of my Gold Care Club members want me to give them direction and ask me regularly, "What should I be doing right now?" Well, here are my calendar reminders for summer suggestions for what you can all be doing all summer long.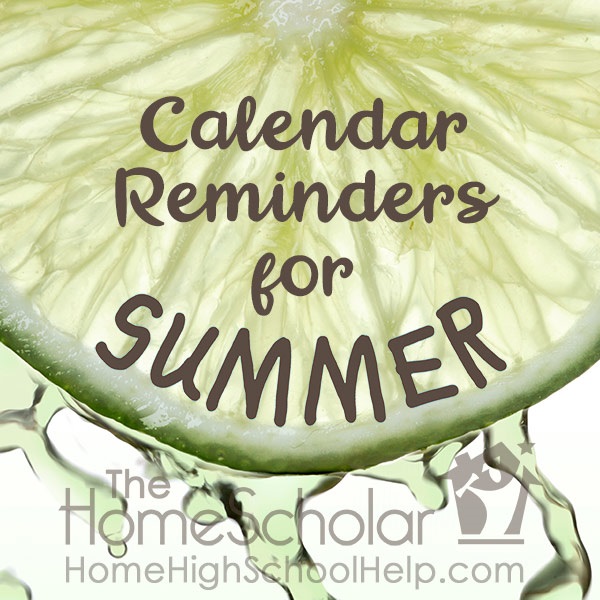 Relax!
Fill summer with Delight Directed Learning, and provide time for kids to pursue their own interests.  It's the best thing that you can do to prepare them for college - and life! Learn more: Encouraging Delight Directed Learning at the High School Level
Read!
Encourage reading this summer.  Choose a library book from a reading list for college bound students. Keep a reading list. Check out this college bound reading list: College Bound Reading List. Or grab books for your younger students here: 7 Ways to Encourage Reading in Middle School
Retain!
Keep math skills sharp - they are so easily lost! Use SAT or ACT prep books for a summer review.  Just 2 or 3 small problems in a prep book may be all you need. Or you can get some fun math games and supplements from this blog post: Teaching Math the Right Way Tip #5
Record!
Update your transcript for last year and course descriptions.  For help, try the TotalTranscriptSolution.com or the Setting the Records Straight book on Amazon. Learn more with my free online classes: A Homeschool Parent's Guide to Grades, Credits and Transcripts or Homeschool Records That Open Doors.
Refresh!
Take some parent education courses from HomeschoolThruHighSchool.com, or grab a short encouraging book to help you renew. Getting the Most Out of Your Homeschool This Summer: Learning Just for the Fun of it!
Special Tips for Seniors
Planning ahead can make the coming year so much smoother! This summer, I'd love for you to do these three simple things.
1. Locate your favorite colleges online.
2. Find the admission application due date.
3. Put it on your calendar.

Take a class, read a book, or get some help this summer.  The best way - BY FAR - is to consider summer your "continuing education" season.  Then you'll be ready to go in the fall!