BRAND NEW book, Simple Science for Homeschooling High School
"Houston, we have a problem!" Homeschool parents often approach teaching high school science as if being asked to build the space shuttle. But teaching your kids science doesn't require a PhD. All it requires is a willing heart, an organized approach, and some simple facilitation skills. There is no reason for science to be scary.
You don't have to work at NASA to teach your teens effectively! And teaching High School Science isn't Rocket Science!  Just keep in mind the first principle of homeschooling high school: "You don't have to learn it. Your kids have to learn it."
Learn what to teach, why to teach it, and how to teach it with my NEW book!  And, the best part? 
My Kindle version is FREE through 12/5/2015!
You will discover science curriculum options, and learn how to choose the one that will be best for your family (and save you money)! You will learn how to keep great science records to demonstrate your kids' learning effectively. Learn essential strategies to motivate your kids to succeed in science!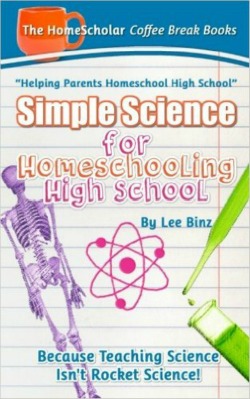 Understanding science is a requirement for every homeschool graduate. It isn't just essential for college, but for functioning in the world. The good news is, there have never been such great tools available to help you impart this critical knowledge to your teens. "Simple Science for Homeschooling High School" will reveal these tools and provide you the insights you need to put them to work in your family.
"Simple Science for Homeschooling High School" is part of The HomeScholar's Coffee Break Book series. Designed especially for parents who don't want to spend hours and hours reading a 400-page book on homeschooling high school, each book combines Lee's practical and friendly approach with detailed, but easy-to-digest information, perfect to read over a cup of coffee at your favorite coffee shop!
Never overwhelming, always accessible and manageable, each book in the series will give parents the tools they need to tackle the tasks of homeschooling high school, one warm sip at a time.
Don't forget -
you can get your copy for FREE this week!