If your children are bilingual, some colleges will accept that as a foreign language and some will not.  I think it's a good idea to provide some sort of outside documentation.  I like suggesting a CLEP exam, because they provide an official transcript.  However, CLEP only offers a handful of languages, so I'm not sure it will help you.  You can also try an AP exam, but they need to be fluent in writing as well as speaking.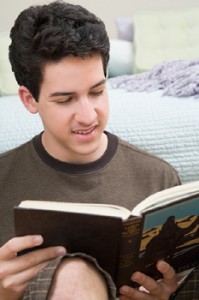 Being bilingual is something unusual and different that you can emphasize in your transcript.  If they currently are speaking a second language, then you could give them "Conversational French" or "French Fluency" for each year they are high school age.  To  emphasize that uniqueness even more, you could encourage them to write an essay about WHY they are bilingual.  Have them write it this year, and then when they are applying to colleges you'll have something to work with already!   It would be an EXCELLENT true short story about themselves.
If possible, consider taking a second foreign language in high school.  Not because all colleges demand it, but because it will only  strengthen their portfolio.  My children did Latin in middle school/9th grade, then took French after that.  Although one child merely tolerated foreign languages, the other one LOVED it, and went on to study French and Latin for fun in college.

Join my Squidoo Fanclub!