Better Grades Through Baking
As you can imagine, I get a lot of "interesting" press releases.   Recently I received information about how grades improve when the house smells good. Here are the very important statistics: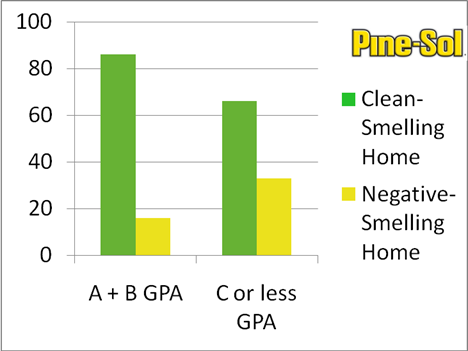 We're working with homeschooling mom and the founder of Mom Bloggers Club, Jennifer James, to let people know about this new study which shows that 84% of students reporting GPAs of A or B reported positive childhood home smells, such as lemon, mint or "clean." In comparison, 34% of students with an average GPA of C or less reported remembering negative smells in their home. Because homeschooled children spend so much time inside their homes learning, it is even more imperative to keep a clean and fresh smelling home to help foster children's academic success. Jennifer James is available for interviews if you'd like to speak with her further about how she thought about this study through the view of a homeschooler.

Additional materials can be found on our Internet press kit, www.pinesolipk.com, including full study findings here. The study was conducted by Dr. Alan Hirsch and the Smell & Taste Treatment and Research Foundation, and was commissioned by Pine-Sol.  The above chart visually explains the top-line study results.
Now before you start recommending the book "How to Lie With Statistics" by Darrell Huff, let's look at the positive side of this study and just run with it.  If positive household smells can increase grades (I'm not saying they do) then it's your responsibility as a homeschool parent to make your home smell as good as possible so your children will grow up smarter and have a higher GPA and attend the college of their choice and get a fabulously high-paying job, right?
Naturally that means you should put the books aside right now and make some chocolate chip cookies.
Statistics never lie!

Are you ready to get serious about homeschooling high school?  Send me an email and let's talk!