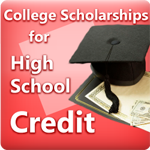 Take some time off to focus on holiday planning and cooking.  That doesn't mean your kids are running wild today, though.  How about giving them an essay contest while you are preoccupied?  These are some scholarship opportunities that are coming up quickly.  While the kids are busy writing, maybe you can get some baking and shopping done?




Essay Contests




Letters About Literature Essay Contest
JFK Profile in Courage Essay Contest
The Dupont Challenge Science Essay Competition
Love science? Write 700 to 1,000-word essay on a science-related topic.
Multiple winners are chosen. Deadline for essay submission is January 31, 2011
http://thechallenge.dupont.com/
Jane Austen Essay Contest on the novel "Emma"
Love romance? Writers in grades 11 and 12 (or homeschooled students ages 16-18) are asked to write an essay related to the book Emma, by Jane Austen. Entries must be postmarked by April 13, 2012

For more ideas about using Scholarships in your homeschool, you might like this A la Carte Class.