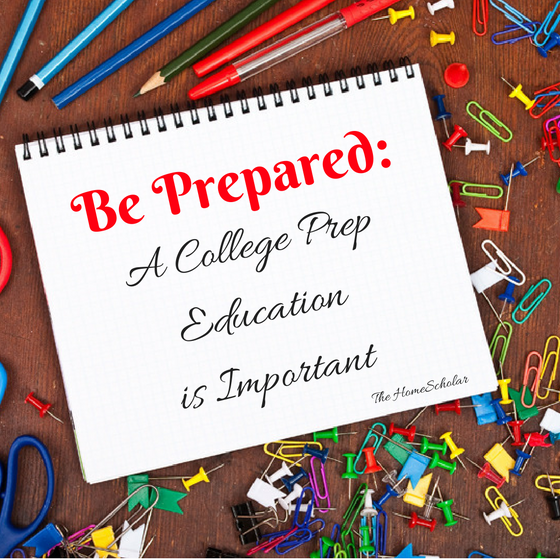 Be Prepared: A College Prep Education is Important
High school can be like driving on auto-pilot. You arrive at the destination, but can't remember the journey! When you homeschool high school, sometimes life goes by quickly and your child is a senior before you know what happened!
College preparation is critical for students who plan on going to college. College bound students need course work that will prepare them. Students need to take college admission tests, and parents need to learn about grades and credits. College preparation for college bound students is expected.
What can college preparation provide for students who will
not
go to college? Why bother getting your kids ready for college when you feel certain they won't go? Consider for a moment how many times your children have changed their minds. When you least expect it, on almost any topic, teenagers will change their minds. Stop laughing! You know it's true! And teenagers may even change their minds about going to college.
Rigorous academics can benefit children even if they are not heading to college. When high school may be their only formal education, you want it to be the best! Focusing on requirements for the college bound will ensure challenging academics, rather than just the minimum. Excellence boils down to keeping your children challenged, not achieving a certain prescribed level. Calculus does not make the difference between a college bound and a non-college-bound teen. Instead, learning how to learn is what prepares a child for college and for life.
Life would be much easier if children would just make up their minds once and stick to it! Unlike changing dinner plans from enchiladas to spaghetti, changing from "vocational training" to "college preparation" is a little more challenging. By planning a college prep high school, you don't have to worry so much about changing plans. You and your student will be ready for anything. You can prepare your child for college as part of your homeschool, taking to heart the Boy Scout motto, "Always be prepared."
Providing a college prep education is not terribly complicated. You can continue to homeschool the same way you always have, learning with reckless abandon. You don't have to change your curriculum, or give tests in every subject, or chain your student to a desk. Homeschoolers of every stripe have been successful with college admission. Don't change what has always worked for you, just set your eyes on college so you have the ultimate flexibility when your student graduates.
If you are stressed out that your high school teen hasn't found a career interest yet, relax. Some kids decide on a career when they are very young, and others don't decide until much later. Statistically speaking, a working adults changes their career three to seven times in their lifetime! In the same way, it's not unusual for a college student to change their major at least once in their college career. And even if your student chooses a career now, it's unlikely that they will continue with that career throughout their entire life. Live without regrets. Be prepared for anything, because with teenagers, "anything" can happen!
A Note about Teenagers
When your teens are growing up, remember they are also growing into adulthood. They are trying hard to become an adult, and make adult decisions. Decision making skills don't appear overnight. Teens need practice. They want to become independent, and we want to encourage them to grow up.
This is that time in life when you have to think about the five year plan. When giving advice or direction, consider whether it will really matter in five years. You can always give advice, but don't get too emotionally invested in children taking your advice unless it will matter in five years. Most of your suggestions really won't matter in five years at all!
Would you like to learn more about your child's options after high school?
This article is a brief excerpt of my Coffee Break Book,
Options After High School: Steps to Success for College or Career
. Regular price is $2.99 on Kindle.
Grab your copy here today
!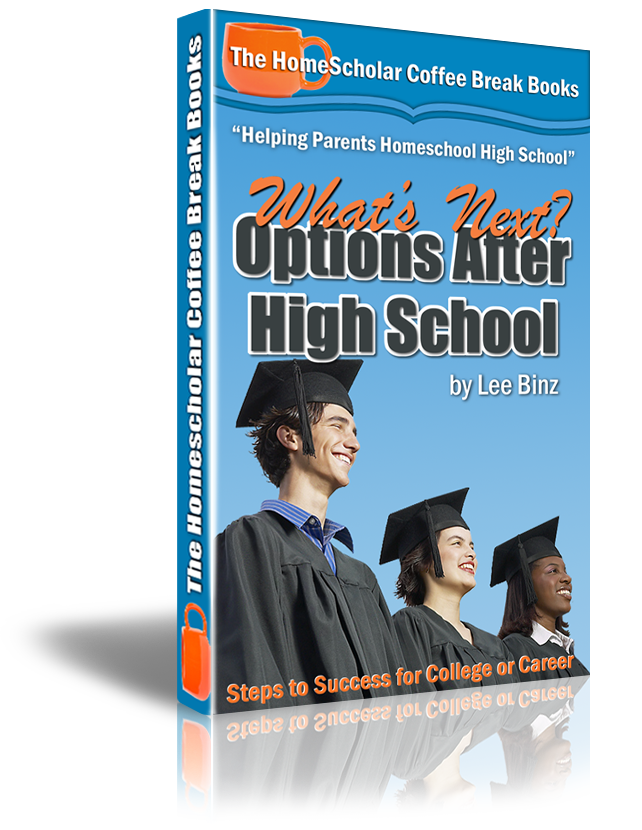 Once you've read it, I would be so grateful if you left a quick review to let me know what you think. Thanks so much!