Big Changes Coming with Redesigned SAT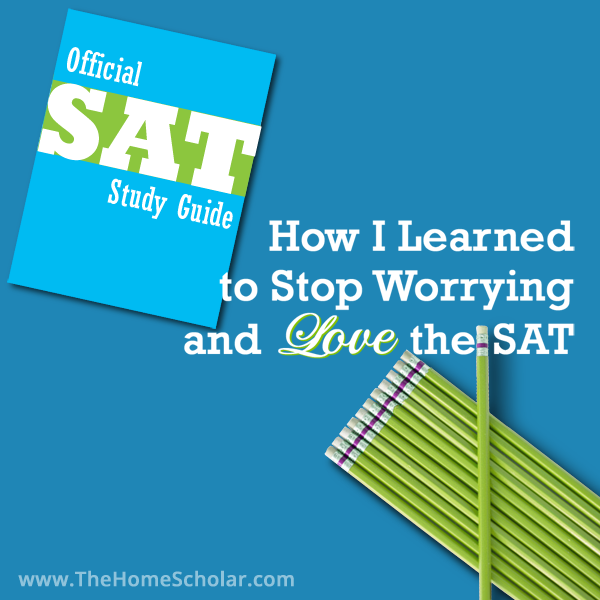 There are many things homeschool parents worry about: our children's health, nutrition, curriculum, and more.
You may be worried about the new SAT scoring. The SAT will make major changes beginning in the spring of 2016. That means today's freshmen, graduating in 2017, will be the first to take the new test.  Are you ready? Do you know how it will change and what it means to you? I have done all the research for you! Calmly click on my article this month, below, and you will immediately feel at ease again!
How I Learned to Stop Worrying and Love the SAT
Big changes are coming. I hate change. Do you sigh every time you are faced with a software update? With each change, I'm sure it will be the last time I will ever be able to figure out my electronic device. Each change has a learning curve, and I'm never sure if it's worth the effort.
And now this. Another change to the SAT. Essay optional. No penalties for wrong answers. Mental math. Computer-based.  Free test prep. What does it all mean? Think of this like "updating your operating system." It's a change, you can't avoid it, so you just need to deal with it. Learn about the change and how to use it as best you can. And then hope it's not a dud of an operating system!
SAT Scoring Changes
In the new SAT test, reading and writing will be combined into one section called "Evidence-Based Reading and Writing." It will still have the usual 200 to 800 point scale. The Math section will also be scored between 200 and 800 points. The essay is optional, and that score will be reported separately. There will be only two mandatory subjects in the future test, so the test is returning to a 1600 scale. At least a 1600 score will again be something to brag about once again, rather than demonstrating mediocrity. The average score will continue to be about 500 per section, or 1000 for a total average score.
The test will last about 3 hours plus 50 minutes for the optional essay. The penalty for guessing will be removed, so a wrong answer will not be worse than leaving an answer blank. This new SAT will be available on paper, but in some locations it will be available as a computer-based assessment. Throughout the test, students will be reading about science and social studies.