An AP exam is a wonderful way to demonstrate mastery of a subject.   You can prove your child has learned a wide variety of subjects with one long, graded exam.  It's standard for many highly selective schools, so they can be quite common.  That doesn't mean, however, that AP exams are always a good fit.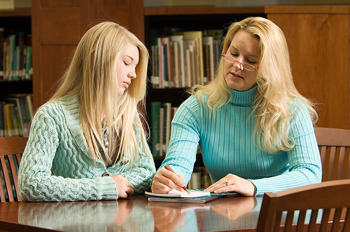 One of my clients reported that her son struggled to follow an AP course that homeschoolers commonly utilize.  She said each day he would study for 4 or 5 hours just on the single subject.  Finally, exhausted, he had little emotional energy left to spend on his remaining school work.  Not surprisingly, he was burned out and his mother was worried.
With everything, it's important to find a balance between life and academics.  Take a step back.  Try to look at the big picture.  From within the family, I'm sure there is confusion and strife.  Perhaps there is anxiety about whether the child is trying hard enough - or whether the parent is pushing too hard.  From outside the family, the bigger picture is a little easier to see.  One AP subject was interfering with homeschooling in general.  In this child, one AP subject came at the cost of education.
If something is getting in the way of educating your child, remember why we homeschool.  We can be flexible, and change and adapt to meet various situations.  No matter how great the AP class sounded when you signed up, once you recognize it doesn't work, flexibility can save the day.
An educated, well adjusted, happy student will look better on your transcript, and look better to a college, than a child that passed an AP exam at the expense of the rest of school.

Do you Twitter?
Follow me here
!