When homeschoolers take classes outside the home, the transcript can seem a little complicated.  You can make it easily understandable by simply using acronyms for outside classes.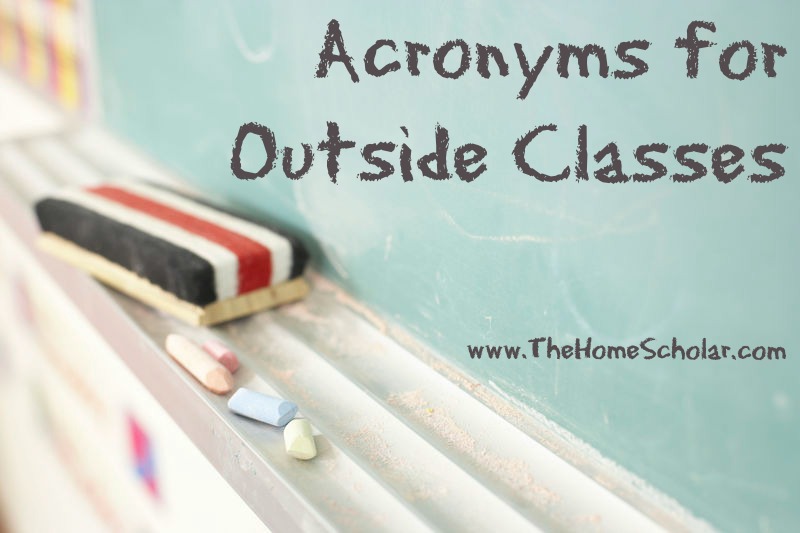 Acronyms for Outside Classes

Choose an acronym for each location where your child took classes. Here are some examples:
DHS = Denver High School
HCC = Highline Community College
FHC = Family Homeschool Cooperative

Once you have chosen an acronym, use it on your child's homeschool transcript.  This will help colleges figure out where each class was taken, and where they can expect other transcripts to come from.

Place the acronym by class title on the transcript. For example:
DHS:  Algebra 1
HCC: SOC 101: Introduction to Sociology
FHC: Latin 1

Then in key or legend toward the bottom of your transcript, define what each acronym means.  It might look like this:
DHS:  Classes taken at Denver High School
HCC: Dual enrollment classes at Highline Community College
FHC: Homeschool co-op classes taken at Family Homeschool Cooperative

If the outside classes were taken at a brick and mortar school, your homeschool transcript grade should look exactly like the transcript grade that comes from that school.  Homeschool co-ops are not schools, so if they give you a grade it's really just a "serving suggestion" based on their interactions with your student.  If your student took classes at a community college, high school, alt ed program, or accredited online school, you must use their grades, and have them each send a transcript directly to the college.  In fact, if your child has withdrawn from public school, classes taken there can be listed on the homeschool transcript as well.

Will your child's transcript include a lot of acronyms for outside classes? Please share!

If you need any extra help, you will really appreciate my
Gold Care Club
, full of templates and tools to help you homeschool high school.