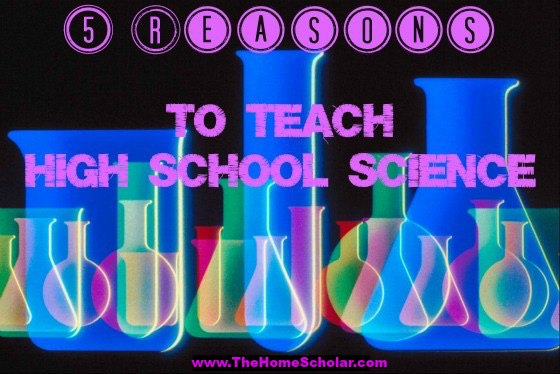 5 Reasons to Teach High School Science
Parents sometimes look to me to reassure them it's OK not to teach science in high school. The bad news for them is, it really is important! The good news is, you can make it as painless and enjoyable as possible. There are five strong reasons to face the situation head-on, and teach science in high school.
Reason 1: Science is required for high school graduation
Almost all school districts require science as part of their core curriculum. It's a core element of graduation in many states. Make sure you are following your state homeschool requirements because they may be different from state public school requirements.
Reason 2: Science is required for college admission
Colleges usually demand more than what is required for high school graduation. In general, as part of a college prep education, colleges look for at least three years of science with at least one lab. If you plan to teach four years of science, that's great, you can exceed expectations. Your child can earn better scholarships by taking science every year.
Reason 3: High school science helps students build critical thinking skills
Learning critical thinking through science prepares children for the ACT test and understanding science helps them better analyze data and form accurate conclusions. As adults, they will be able to think critically about news reports or studies in the paper. The thinking skills learned in high school are skills used daily. Science helps form these critical thinking skills.
Reason 4: Science demonstrates that students have the ability to work hard
Colleges and employers both want people with a strong work ethic. Strong, academic subjects on your child's transcript show they have the ability to work hard. Four years of science shows that your child worked hard for four years. Your child can be successful getting into college and career because they have demonstrated their hard work.
Reason 5: Science is required for STEM careers and colleges are willing to pay for it
STEM stands for science, technology, engineering, and math. The good news is, if your child has an aptitude in these subjects and you're preparing your child for a STEM career, they are eligible for some fabulous scholarships. Keep an eye on the big picture; you're investing money in science and math curriculum for good scholarships in the future.
Teaching Science isn't Rocket Science!
Teaching your kids science doesn't require a PhD. All it requires is a willing heart, an organized approach, and some simple facilitation skills. The good news is, there have never been such great tools available to help you impart this critical knowledge to your teens. Simple Science for Homeschooling High School will reveal these tools and provide you the insights you need to put them to work in your family. This book is part of The HomeScholar's Coffee Break Book series. Designed especially for parents who don't want to spend hours and hours reading a 400-page book on homeschooling high school, each book combines a practical and friendly approach with detailed, but easy-to-digest information, perfect to read over a cup of coffee at your favorite coffee shop!
Mary wrote such kind words on my blog about Simple Science for Homeschooling High School: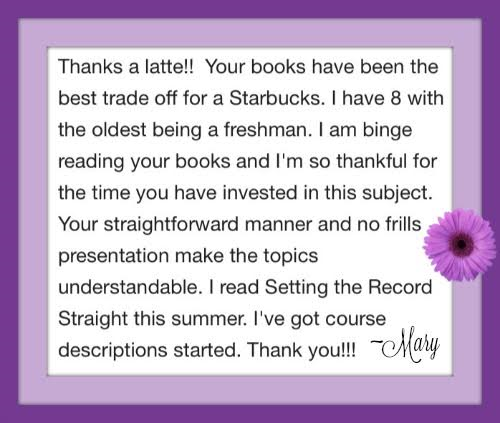 So trade in a Starbucks coffee, and get yourself a copy of Simple Science for Homeschooling High School today!