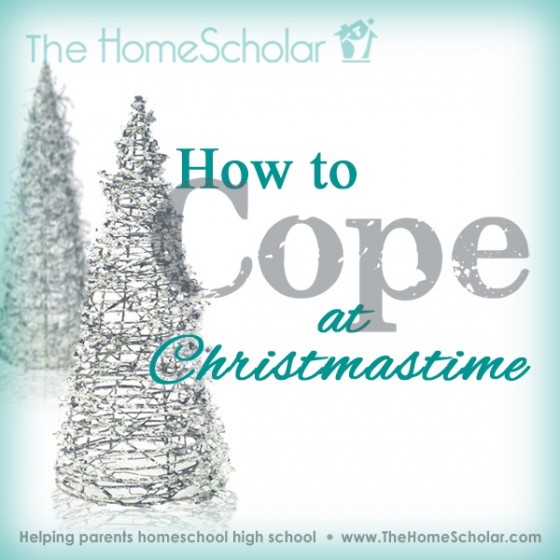 25 Ways to Stay Sane in December
It happens every Christmas … all your warm, fuzzy ideals end up in shambles, leaving you feeling frazzled and stressed. The easiest way to stay sane through the holidays is to set balanced expectations of yourself, your family, and your budget.
Start the month right, by planning ahead. You can work on at least one thing a day to make the whole month easier for you to manage!
1. Make Ahead Meals – Spend the first weekend filling the freezer with meals for your family. (
Learn How
)
2. Freeze the Party – Cook what you can for Christmas week and Christmas dinner. (
Holiday Freezer Cooking
)
3. Create a Gift List – Decide who will receive gifts and how many, and keep the list with you. (
Gift Ideas
)
4. Read Great Books – Choose holiday classics to read aloud together. (
Holiday Reading List
)
5. Choose an End Date – Choose your last day of school before Christmas break and mark it on the calendar.
6. Set Time Limits – Do the academics in the morning, with less structured afternoons.
7. Focus on Fun School – Focus on P.E., Culinary Arts, and Home Economics. (
How to Collect Credits
)
8. Do Less "Schoolish" School – Eliminate a workbook, textbook, or assignment this month.
9. Swap School Strategy – Don't add any assignments unless you take something out.
10. Set Your Budget – Christmas is not about money or gifts. (
Money Saving Tips
)
11. Prioritize Family – Sing, cycle, sled/toboggan, ice skate, or watch holiday classics together.
12. Savor Sane Moments – One peppermint mocha or pumpkin latte can make a difference.
13. Make Bake Ahead Treats – Bake sweet bread or cookies, or freeze cookie dough to enjoy at a busy time of the season.
14. Create Family Traditions – Decide what memories you want to create for your child and work on them.
15. Practice Self Care – A warm bath, candles, and chocolate can change your perspective.
16. Pay for Help – Hire a housekeeper, landscaper, or helper for one day.
17. Focus on Family – Your mission is your family right now, so enjoy it without guilt.
18. Date Your Spouse – One babysitter for one night can help get you through the month.
19. Decorate Simply – Be realistic and choose what is easy to set up and take down.
20. Take it Easy – Not everything should be handmade; choose the easier way when possible.
21. Watch Body Mechanics – Grab a chair and pay attention to your posture while crafting and wrapping.
22. Love Your Neighbor – Take a treat of baked goods and fruit to their door with a card and a smile.
23. Serve Others – Volunteer to serve, or perform music at church or a retirement home. (
Volunteering Ideas
)
24. Set Aside Quiet Time – Use that daily reminder to keep your focus on what is most important.
25. Just Say No – Politely but firmly decline opportunities that take your focus away from priorities.
Holiday seasons — especially between November and January — are busy times. Celebrations such as Thanksgiving, Christmas, New Year's Eve, and Hanukkah seem to tumble ontop of each other, with no time in between. For many homeschoolers, it seems that any idea of homeschooling goes out the window during these times. Is it possible to stay sane and continue to homeschool, even a little?!
I hope these suggestions help you stay sane and not have a "nutty" in December! Breathe deep and enjoy this time with your children!

Click Here to Join my Newsletter!