When providing colleges with the information they need, going beyond a transcript can  improve your chances of scholarships.  A transcript may be the cornerstone of admission, but colleges want more than that if you expect them to give you scholarship money.  They generally like to see more comprehensive homeschool records.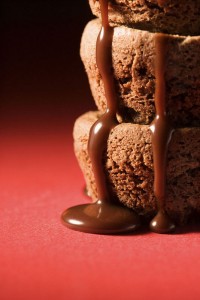 Samples of student work are the icing on the cake, the yummy dessert of comprehensive homeschool records.
In our homeschool records, I provided three writing samples with out comprehensive records.  I tried to choose a variety of writing styles; research, fiction, and poetry.  I tried to use writing samples that I knew were good.  We had submitted some writing to essay competitions to win scholarship money.  When my children won scholarship funds, I knew the essay must have been good, so I tried to include that piece of work.
In addition, I kept a sample of work for every class on the transcript.  I didn't submit those to colleges (I figured maybe they didn't really want documentation of four years of PE, you know?  That could get long!) Instead, I made a note on each course description about how "written work is available upon request."  I actually did keep something from every class. If they asked me for something, I was able to give it to them.
I was asked for some additional work samples.  I was asked for a "graded" English paper (presumably with some red marks on it) and math work in the student's handwriting.  Another college wanted to see a lab report from science.  My advice is to be prepared.  It's impossible to guess exactly what records they may ask for.  Instead of worrying about it, just try to keep a few representative samples from each class.  Then you'll be prepared for anything!

Another feature of the Gold Care Club is where I answer your
biggest questions about homeschooling high school
.  You will love your free month of Gold Care when you get my e-book!