Welcome Stephanie!
I am delighted to introduce Stephanie as the new member of The HomeScholar.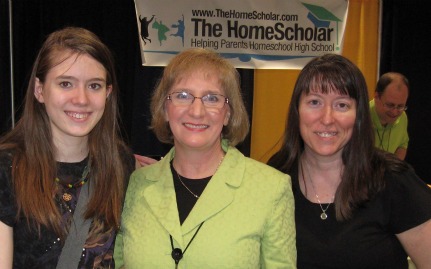 Stephanie is the Office Manager in charge of keeping my office running smoothly so I can answer calls and emails from panicky parents.  Stephanie is a homeschool mother with one daughter at home.   Stephanie is on the right, and her daughter Caitlin is on the left. This photo was taken of us at the Midwest Homeschool Convention in Cincinnati.  (You can see my husband in the background working hard while I'm goofing off!)  She lives with her family in Ohio, and telecommutes to work.
If you have technical or non-homeschool questions, you may be receiving emails from Stephanie.  She has decades of experience as an office manager, administrative assistant, and executive assistant.  With her experience as a homeschool parent, her technical expertise, and her organizational skills, I'm just thrilled to have her on board!
Stephanie says, "My husband and I started homeschooling in 2000 with an 11th grader, a 9th grader, and a gifted preschooler (who is now in 9th  rade!) My family is very active in our church and in activities such as geocaching and genealogy, and we still enjoy the lifestyle and family  elationships that homeschooling provides us."
I'm so impressed with Stephanie's enthusiasm, knowledge and willingness to help with any project.  She is a wonderful addition!
Stephanie's new email address is
[email protected]
Please leave a comment to welcome Stephanie to our team!

Do you have a homeschooling high school question?  Send me an
email
!