People have been asking me for an update on my kids. My boys are all grown up - they are men now and not boys anymore. I could give you an update, but really, I want to give you more of a warning.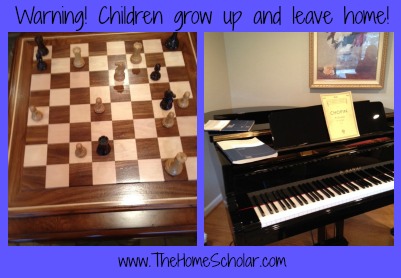 Children grow up. They leave home. They stop leaving messes.
The other day my kids came over. I needed an excuse to make cookies, but I also made them dinner and we all watched a movie together. It was lots of fun! A few days after they left, I realized something was different about my living room.
There was music on the piano...chess pieces littered the table...
Wow! All those years homeschooling my children and feeling frustrated at messes, and now here I am HAPPY to have a little bit of proof that they came over to visit and had fun! What once seemed so annoying now brings me such warm feelings! Who knew?
Here is a brief update, because some have asked for it:
Kevin is still playing chess, but not very often. He works full time as an electrical engineer and software engineer and loves it. He is also a part time student getting his masters in engineering, and he is constantly studying "just for fun." He is married to his beautiful, sweet wife Liz (who also works as my Office Manager) and they have a lovely home nearby. Alex is still playing piano, but not very often. He graduated with a double major in Political Economy and Rhetoric. He lives nearby and tutors students in all subjects. We talk a lot about the state of education and curriculum options, and he loves encouraging others to love learning.
Homeschooling is a season of life, not a life sentence.
Enjoy what you are doing, and the stage of life you are in right now. It won't last forever - that's a promise. It's also a warning, because one day you'll face the empty nest and wonder why you were ever so annoyed with scattered chess pieces and random sheet music on the piano.