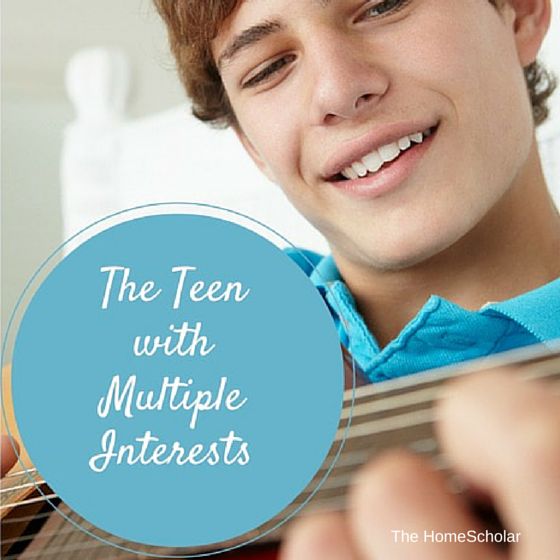 The Teen with Multiple Interests
Let's suppose your child is the teen with multiple interests - FILLED with activities they just LOVE doing. Suppose your teen seems interested in EVERYTHING and engaged in learning a wide variety of subjects.
Sounds like a dream, doesn't it? I know that some of you are thinking, "I WISH!" (if this is you, check out my
How to Create an Extraordinary Activity List for Perfectly Ordinary Teens
article). But the truth is that a child with multiple interests is just as challenging as the unmotivated slug. Because you know what? You can't do everything your child wants to do.
You can't fit in everything fun all in one year. You have four years to expose your child to a wide variety of fun activities so that when they become an adult, they can choose WHICH of the fun things is the most fun and then determine possible career goals.
The first thing you need to do is realize you can't do it all.
The second thing you need to do is realize that your child is in charge of their interests, not you.
Keep the big picture in mind and it will seem less complicated. You need to provide the academics your child needs, that's true. However, it's possible to provide these academics, and provide them WELL, within a reasonable amount of time each day. It's also true that you can provide a high quality high school education and work on a 4 day schedule, or a one-day-lighter schedule. So as you are looking at your high school plan, think about which day might be the "light day" when you just do math, science, and foreign language, and then allow your child the rest of the day to pursue interest areas.
Here is how to break it down, so it will all happen, both the academics AND the interests.
You are in charge of:
1. Teaching core classes in a way that gives maximum free time
2. Scooping up the natural learning your child is doing based on fun interests
3. Grouping those interests together into affinity groups called classes
3. Avoiding turning interests into school - instead, allow them to remain fun activities.