The Teaching Company's The Great Courses for High School Credit
This post contains affiliate links. If you click and buy I may make a few pennies, but not enough for a latte.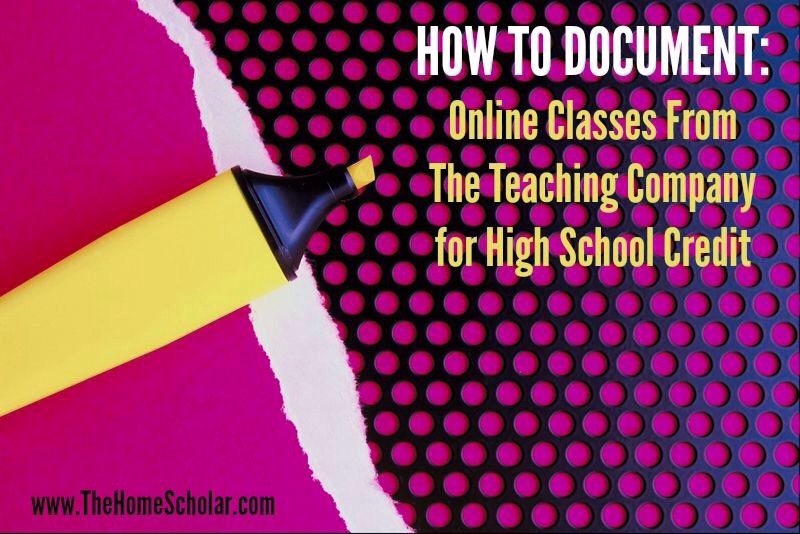 The Teaching Company
provides excellent college level lectures, called The Great Courses. We used them often in our homeschool, to supplement areas our boys were interested in, such as science and economics, and to fill in the gaps in my own weak areas, such as music. Today they are available not only on CD and DVD, but also as audio and video downloads as well as for digital devices. I was asked how to count these courses as high school credit:
Lee,
Thanks for the suggestion in your newsletter to check our library for Teaching Company courses. Sure enough, our library has lots of them. Yea!! How do you decide how much credit to give for one of those courses? They'd make a great summer project.
Thanks,
Kitty in Washington
Some homeschoolers feel that since The Teaching Company courses are college level, when you complete a big series (48 lectures) they should give a full credit of high school work in that subject. Other homeschoolers feel that since it isn't a "prepared curriculum" they would need to count hours, and 48 hours is NOT enough for a credit. Just for reference, 75-90 hours is worth 1/2 credit.
We used
The Great Courses
mainly as a supplement. My children worked on their Sonlight curriculum and I beefed it up with The Great Courses lectures. I had them take notes on each lecture for practice with college note-taking.
The Teaching Company was used to fill in gaps as well. Kevin hadn't taken any economics in high school because his brother studied economics 24/7 and I simply FORGOT. Bad Mom! Once Kevin finished The Teaching Company Economics lectures, I gave him 1/2 a high school credit.
I also gave my children full high school credit when they passed a CLEP exam. Because they learned SO much through The Teaching Company lectures, they were able to pass quite a few CLEP exams in different topics. Each CLEP passed was transfered onto their transcript as a full credit high school honors course.
I can't give you any hard and fast rule about awarding credits for The Great Courses classes. In my opinion, an adult course with 48 lectures standing alone with nothing to supplement it would be a 1/2 credit class. A high school level course with workbook, supplemental reading, etc. would be a full credit course.
What do you use to supplement your high school studies? Do you have experience with The Teaching Company courses? Please share!

Please note: This post was originally published in April 2009 and has been revamped and updated for accuracy and comprehensiveness.
Do you enjoy these daily doses of high school homeschool wisdom?  Sign up to get them delivered via email or reader!
Stay Informed
When you subscribe to the blog, we will send you an e-mail when there are new updates on the site so you wouldn't miss them.