When deciding whether or not you'll have your student do a 5th year of high school, or a Super Senior year, you'll need to weigh the desires and maturity of your student against their age and abilities.

It's normal for a child to graduate high school between the ages of 17 and 20. For many parents, that means that you can provide a 5th year of high school and still graduate your child on time.

Although graduating at the "right age" compared to her peers might be confusing if your child has close friends who think it's strange to have two senior years. But it's important to provide your child time to mature before going to college.

I know you are already thinking about college. Do you know how your teen can find and gain admission to a perfect fit college? I do! Click to register for my free class: College Applications Simply Explained
But how does the 5 Year Plan look on a transcript?
Some people refer to the child as a "Super Senior" and allow 5 years for graduation. Sometimes parents are uncomfortable with the 5 year transcript. If that's you, some parents will decide on the year of graduation, and just put in the last 4 years of classes. For classes taken before that: the math, science, and foreign language classes might be considered Early High School Credits. That way, only the last four years of high school are represented on the transcript and it doesn't look like she was "held back." For more information, read Early High School Credits Earned in Middle School.
When your child has attended a school that has given them a transcript (whether it's accredited or not), then you do have to send that transcript to the colleges when you apply. In fact, the school must send the transcript directly to the colleges, without you being the intermediary.
At the same time, your homeschool transcript is the academic clearing house for every place your child has gone to school. Your transcript would include the classes taken at the Christian school, classes taken at a public school, or classes taken at community college. It should include all those things as well as the classes that you taught home.
If you have a child that has done five years of high school, it can be complicated to try to decide how best to represent that on a transcript. One way is to organize your transcript by subject rather than by year. That way, you might have 5 maths or 5 sciences, and include them on the transcript regardless of what year they were taken. Sometimes that's the easiest way to handle it.
Another method is to take the last year of school and count backwards four years. Your final year then becomes your senior year, the year before is junior, and the year before is sophomore. You might have some early high school credits too, but at least it would look like a little bit more normal transcript.
Either way, make sure to give them all the credits they have earned! As long as you are confident that your homeschool transcript is honest and true, either method will work.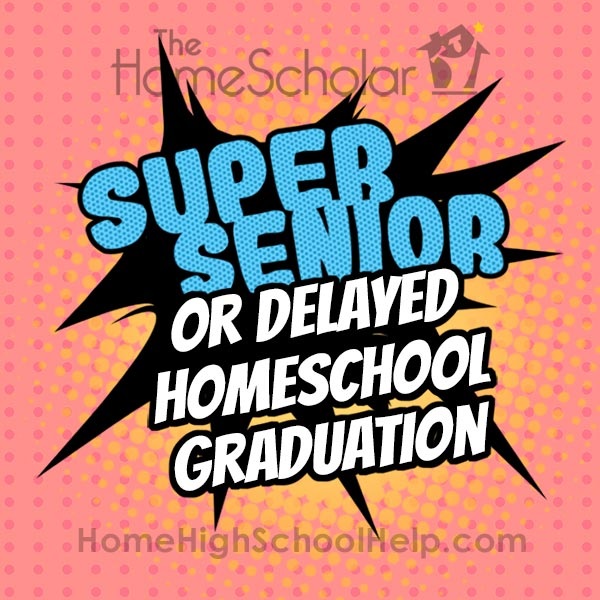 What factors would determine a delayed graduation?
Graduation is not determined by the lowest common denominator, or the level you achieve in the weakest subject area. It does not magically occur when the child can achieve grade level in English or other subject. I don't recommend that you hold a child back because of one class or subject.

Graduation requirements can be confusing, too. If you look for requirements online, often the "required courses for graduation" is a list that parents get from the public school website - the same schools that have a 30% drop out rate, and the same schools that failed your child. Instead of looking at public high schools for guidance, look at the colleges where you are interested in attending. Often they don't have those kind of requirements at all. Remember that there are colleges that literally specialize in different learning challenges. Read: College for Struggling Learners.

Graduation can be complicated by emotional and physical maturity of the student. You know, we are training our children to become independent, and one day your child will turn 18 and want to be independent. That's when homeschooling REALLY gets hard. You can lead a horse to water, but you can't make them learn. So weigh the desires and maturity of the student against the age and abilities when making the decision about graduation.
Look to the future!
Graduation means there is something next, something new on the horizon. Ask yourself, if she graduates, what next? Is she ready for the job market? Will she be going to college? Sometimes it can help to decide on grade level based on what she is ready to do in terms of the college search. For example, a Junior would be taking the PSAT, studying for the SAT or ACT, and going to a college fair. If your child is mature enough for a college fair, maybe junior year is the right choice. If your child is ready to apply for college admission, and will start writing college application essays on the first day of school in the fall, that sounds like senior year. If your child has already chosen a college where she wants to apply, or he has already decided on a career after high school, maybe senior year is the right choice. Read Options After High School.
Want to be armed with additional information on Super-Senior plans, please read this recent post, Super Senior Five Year High School. For a more complete picture, please read my article, Should You Homeschool a Super Senior Year?