Struggles with Daily Math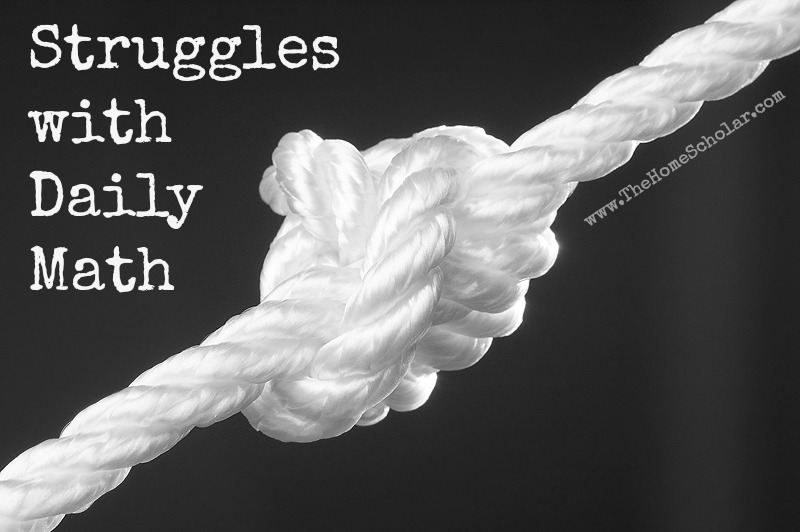 What do you do when your child struggles with daily work? It can be confusing! Let me suggest a few ideas:


check the curriculum


try to motivate kids to work more carefully


consider using a test to inform you on a grade, or provide a grade that reflects their poor scores.


Karen asked a question about her son's math, and I will illustrate how she can use these strategies to help.



Hi Lee, I bought your book, 

Setting the Records Straight

 and want to ask what to do on my son's records (age 14) when his math (Saxon) scores on his daily work are about a C- to D- grade, which he has to fix on his own and score 100% before he passes, but this is a consistent problem he is unable to correct. If I say he is an A or B grade because he self corrects and eventually gets 100%, that isn't going to work w/ college because they only give 1 chance, and the truth will be known. I don't test him--just give him daily work. What grade should I give him? I am confused and really think he might have some learning problems.

Thank you,

Karen
If your son is doing very poorly on daily work, then that may not be the best math program for him. I know that Saxon is rated very highly, but he will learn more if he uses a curriculum that's a good FIT - even if it isn't rated quite so highly.  Check out my article on "Love of Math" and see if you can find a curriculum that's a good fit for him: 
For the Love of Math
If you believe the curriculum is a good fit, then you might want to reward him for working carefully on his daily work.  Ask him to do half the problems (odd numbers or even numbers).  If he gets a good percentage correct (say 90%) then he can skip the other problems.  If he gets less than 90%, then he needs to correct the problems he gets wrong and do the other half of the assignment.
Occasional tests can provide some college preparation. You're right, in college you can't just get a bunch of problems wrong all the time and still end up with a good grade. Colleges use a lot of bubble tests, so it's important for kids to do well on simple tests. In fact, some of my friends with college kids tell me they wish they would have prepared their children for test situations.  Not that you have to test in every subject, but having a regular test in something like math can help kids figure out what tests are like, so they don't become fearful.
If you are happy with your strategy and curriculum, and you just want some ideas about grading and how it will work when he gets in college, that's a different issue. It's hard to decide what an appropriate class grade will be for him. I think your best bet is to give him a test once in a while, so he knows it "counts" and will actually help determine his grade for the class based on comprehension.  Without a test, I think I would consider whether this level of math might be too hard for him. With poor daily grades, the grade for the class will likely be poor as well.  Your goal is comprehension, of course, not a grade, but if daily work doesn't show understanding, it won't be a good grade.  At the most, I would only increase his course grade slightly, perhaps by half a letter grade.
In general, focus on comprehension and mastery - not working at a certain speed. The grade isn't as important as his understanding.

If you need any extra help, check out my Gold Care Club, with templates and tools that will help you along your homeschool high school adventure.   
Stay Informed
When you subscribe to the blog, we will send you an e-mail when there are new updates on the site so you wouldn't miss them.