Setting the Records Straight: Transcripts and Course Descriptions
I received a lovely review that I wanted to share!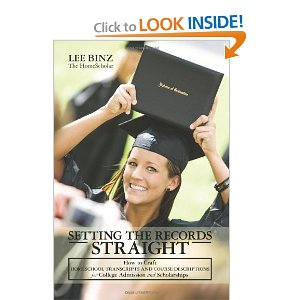 Setting the Records Straight

5-Star Review by Susan Kilbride

This book is a must-read for those of you who are thinking of homeschooling through high school.

Lee Binz goes through the process of making a homeschool transcript step by step and makes what to some is an overwhelming job seem easy. The book is full of real-life examples of homeschool transcripts that her children and others used to get into the colleges of their choice. She breaks down the whole process of making a transcript into very easy steps.

One of the most important things I realized as I read this book is that I need to start working on my son's high school transcript as soon as he starts high school and not wait until he is almost finished.

On a side note, I found Lee's children's transcripts a bit intimidating, not in the sense of actually writing one, but more of, "Oh my, is my son up to those standards?" Luckily, she also presents examples of other homeschooler's transcripts which made me not feel so inadequate! Plus, it was actually good to see what other homeschoolers who made it into college did during high school to get into college. It's definitely better to find these things out now, before my son is in high school, than to find out later when it would be harder to catch up.

"I found Lee's book very informative and highly recommend it."

Read to see what others are saying about The HomeScholar's
Gold Care Club
!
Stay Informed
When you subscribe to the blog, we will send you an e-mail when there are new updates on the site so you wouldn't miss them.