Senior Year Grades on the Transcript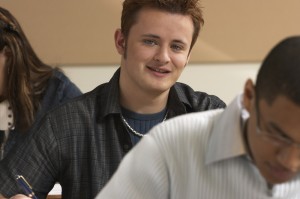 Senior year feels so awkward.  You have to submit the transcript during applications, but your child is still in the middle of senior year!  What do you do with the classes they are currently taking?
Hey, Lee-
I wanted to tell you that Evan's interview at Grove City back in Sept. went well and the Admissions person loved my notebook with course descriptions and said that's exactly what they want to see. He said to send it when Evan applies, which will be soon, as he is applying for Early Admission. I was glad you had said to cool it with the course descriptions at the interview; I just casually showed it to him and asked if this was something they would want with Evan's application. Anyway, my question today is with regard to the classes he is taking now, during his senior year, that he obviously hasn't finished yet. Should I include course descriptions for them with or without his grades thus far? They are of course on his transcript as "Taken during Senior Year" but have no grades by them. Just wanted to see what you thought.


Thanks again!





Leanne
For current year classes, list them on the transcript and list them in the course descriptions.  Just don't provide the final grade.  You can say "To be Determined" or "In Process" for the grades.  I suggest you give the course title, completion date, and credit value just as usual on the transcript.  The only thing that is different is the final grade.  For the course description part, you can fill in the description, and grading criteria if you know it (or just the part of the grading criteria you DO know) but leave the final grade blank.
For more information, I have a free webinar class called 
Homeschool Records that Open Doors!

Learn the SECRET to getting your student placed at the TOP of the stack for college admission consideration as well as one of those MASSIVE university scholarships.  Get the Comprehensive Record Solution!
Stay Informed
When you subscribe to the blog, we will send you an e-mail when there are new updates on the site so you wouldn't miss them.
Comments
1
hi Leanne--

If I were applying as an undergraduate, I would be very interested in Grove City!

That said, I wanted to mention that between my two oldest sons, we applied to eight colleges during the past two years. We got our applications in very early, between September and December. I didn't include course descriptions for senior year, just for courses through the junior year, and nobody ever asked for them. Two colleges did want half-year grades, however. I started to make up a list of senior year classes with abbreviated descriptions of what we were doing last year for my son, but nobody ever asked for such a thing, and I believe Lee thought it wasn't necessary to include with my course description booklet.

A good reason to include senior year course descriptions is that your course description booklet will be a complete and attractive history of what you did during the high school years. However, we didn't know until we were done all that we were going to do! =)
hi Leanne-- If I were applying as an undergraduate, I would be very interested in Grove City! That said, I wanted to mention that between my two oldest sons, we applied to eight colleges during the past two years. We got our applications in very early, between September and December. I didn't include course descriptions for senior year, just for courses through the junior year, and nobody ever asked for them. Two colleges did want half-year grades, however. I started to make up a list of senior year classes with abbreviated descriptions of what we were doing last year for my son, but nobody ever asked for such a thing, and I believe Lee thought it wasn't necessary to include with my course description booklet. A good reason to include senior year course descriptions is that your course description booklet will be a complete and attractive history of what you did during the high school years. However, we didn't know until we were done all that we were going to do! =)