The #1 fear of most people is public speaking!  But teaching your children public speaking skills has a ton of great benefits: increased personal confidence; better writing, organizational, and research skills; critical thinking; and improved communication skills.  Plus, if your child likes public speaking, it can be a marvelous activity to include on your activity and award list!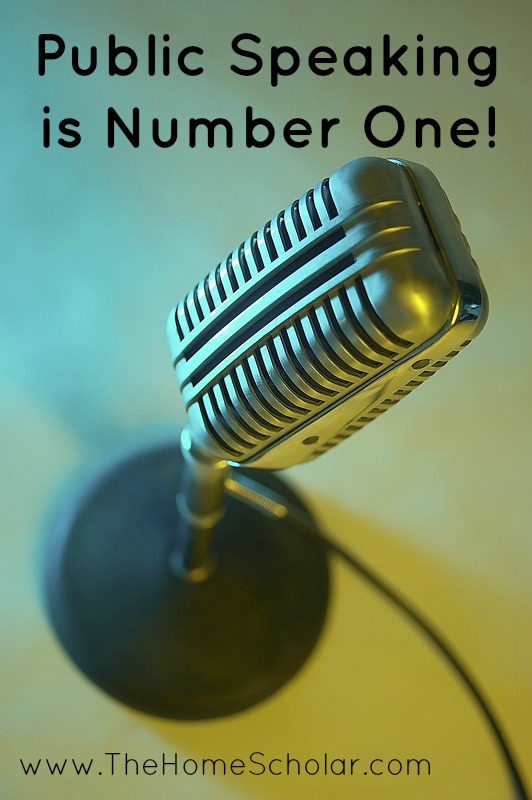 You can find speech and debate organizations in every state, and there are lots of different opportunities to be involved.  Here are some to try:
If you can't or don't want to do group activities, you can still study speech and debate.  Some popular curriculum programs include:
Another way students can improve their public speaking skills is to memorize and present prepared speeches to friends and family.  Our kids learned famous poems to tie in with our study of American and British Literature.  My favorite source is 
A Treasury of Poetry for Young People
.  You can also memorize famous American speeches to tie in with a study of American History or Government.  We used 
Famous American Speeches
: A Multimedia History, 1850 To The Present (CD-ROM).
Whatever you choose, it's important to follow your child's interests, and make opportunities for them to learn.  And don't forget the homeschool record-keeping that must go along with these learning experiences.  You want to show the colleges the great things your child did!  Colleges are really attracted to students who are doing interesting and unique things.  Those interests of your child will help them stand out from the hundreds of other cookie-cutter kids, hopefully earning college admissions and scholarships.

Do you need help with
college admission essays
? 
Using the information in this course, you'll be ready to teach your student to write compelling essays that will get the attention of colleges and scholarship committees.