PSAT Scores: 14 And Gifted
What do you do when your child's PSAT score surprises you? Life with a gifted child is never boring! Sometimes you just don't know what to do next.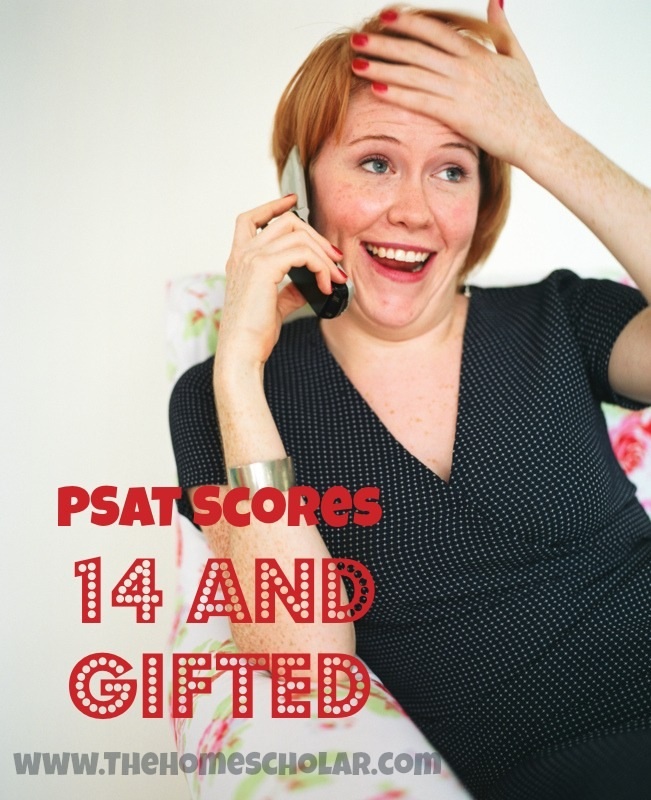 PSAT Scores: 14 and Gifted
Hi Lee,
I just got a jolt when I read on your website that a rough conversion from PSAT to SAT is to add a zero to the end. So what do I do with a 14 year old who has a PSAT selection index of 201, average percentile of 97, Critical Reading score of 70, Mathematics score of 61, and Writing Skills score of 70?
~ Amazed in Auburn
To be honest, that was EXACTLY the place I found myself when my own son was 14. He got an 800 in reading, 790 in writing and math, with a perfect score on the essay. That was the moment I realized that I just *might* have to graduate him early, and I did. He headed off to college at age 16. 
Here are a few resources that may help you take the next steps with your gifted teen.
My best advice is to hang on there! It's going to be a wild ride. Isn't it great that as homeschoolers, we can meet our kids where they're at, whether they're gifted or have learning disabilities, or both! God gave you this child for a reason.
Is your child gifted? Are you amazed at your child's PSAT scores? Please share!

Please note: This post was originally published in February 2010 and has been revamped and updated for accuracy and comprehensiveness.
Stay Informed
When you subscribe to the blog, we will send you an e-mail when there are new updates on the site so you wouldn't miss them.