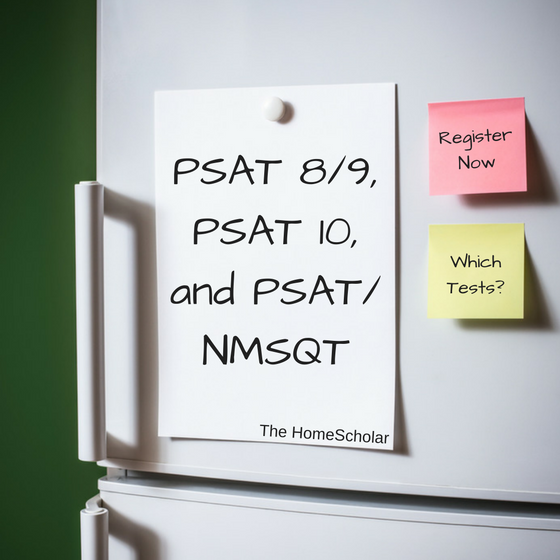 PSAT 8/9, PSAT 10, and PSAT/NMSQT
The PSAT
now comes in quite a few formats: PSAT 8/9, PSAT 10, and PSAT/NMSQT.
The
College Board®
's goal is to sell products (obviously) but also give children plenty of opportunities to take the test. In this test-heavy educational environment, over-testing is the norm, and they are trying to provide what schools are wanting. More tests. But
all
the PSAT tests are really practice for the SAT, with the added possibility of a scholarship based on the PSAT/NMSQT.
The SAT is also in competition with the
ACT test
. The ACT testing company offers multiple test opportunities for every grade and the
College Board®
wanted to get in on that action as well.
The PSAT 8/9 is shorter than the original PSAT test. The PSAT 10 is longer and more like the original. The PSAT/NMSQT is the only qualifying test for the National Merit Scholarship.
It's helpful to take a step back and figure out what your goals are for your child. You want to prepare your child for the PSAT 11 in the best possible way, to increase their chances of earning good scholarships. All the PSAT tests are preparation for the SAT, so you have to figure out which meet your goals.
Try to decide how many SAT practice tests taken in a real test setting will help your child and how many tests will start to produce test anxiety and frustration. You do want to give your child the "soft skills" of test prep - filling in bubbles in a timed situation among strangers - but how many PSAT tests will provide these soft skills? And how many tests will begin to backfire on your child, making them more anxious instead of less anxious? This varies by child.
In my opinion,
the best PSAT test preparation
is spending time on basic literacy skills prior to high school: reading, writing, and math. Once your child is in 10th grade, the best test preparation is practicing with real PSAT and SAT test papers.
The most homeschool-friendly way to do this is to give one short, timed section of the test about 3 days a week. That's 30 minutes, 3 times a week. Each short test section will consist of reading, writing, or math. It can replace your language arts workbooks or writing on the days you assign test prep. This can reduce the work load at home, because you aren't
adding
more test prep, but are
replacing
some work with test prep.
It's helpful to give your high school child an annual group assessment once a year. I suggest a grade level test, not necessarily the PSAT. This way, your child can fill in bubbles among strangers, but it's a grade level test so they can experience success. They should be able to score well on the test, with no implication of "This is important for college - you'd better do well!"
In 10th grade, I suggest they take the regular PSAT/NMSQT just for fun, as their one and only test that year.
This gives practice for the child, and practice for the parent (registration practice is important for parents)!
In 11th grade, your child can take the PSAT/NMSQT, which may qualify them for the National Merit Scholarship. The PSAT score will also give a best estimate of their SAT score.
In 11th grade, after they are done with the PSAT/NMSQT, I suggest you give a timed practice test of the ACT at home. Then you can compare the estimated SAT score from the PSAT/NMSQT against the estimated ACT score from the timed practice test at home. This will help you decide which test is best for your child, and focus all your energy on the test that makes your child look smarter.
What do I recommend? Don't over test your child. Focus on literacy and
real
skills in reading, writing, and math. Then prepare your child by using real test questions from the real test.

Click Here to Join my Newsletter!