My husband volunteered to grade all of our English papers. Not because I wasn't smart enough to do it myself, but because I didn't actually DO it. I was always busy with other tasks, and it never seemed to get done. My husband took over the job, and took it very seriously. He was a little difficult to please. He gave feedback; circling things that were confusing. Pointing out misspelled words or mixed verb tenses. It was awesome. And if I say so myself, my children turned into EXCELLENT writers - got A's in college classes, and the whole bit!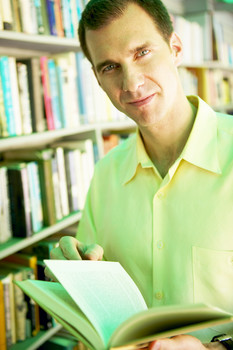 Now it would be nice to think that my husband was a perfect English teacher. Not so. With great trepidation, I'll now confess the truth. I have to confess gently and carefully, because my husband is listening.

My husband is not perfect at spelling. My children have spelled better than both of us put together since they were in junior high. In fact, some experts have pointed out that my husband technically may spell near a 7th grade level. I don't know if it's true. [Editor's note: experts have been known to exaggerate. -Matt Binz]

The other day my husband suggested I include this phrase in my newsletter: "Here me talk about my BEST strategies for homeschooling high school." I pointed out his teeny, tiniest error. My husband will turn 50 in just two weeks, and he responded by saying, "Geesh....My new goal is to master the usage of Here/Hear and There/Their/They're by the time I'm 60. Dream big, I always say...."

My point is NOT to make fun of my husband. And it's NOT to point out that my English skills are vastly superior even though I can't add 2 plus 2 in front of an audience. My point is merely that you don't have to have perfect English skills in order to provide outstanding English evaluation. Think about it for a moment. If we took our child's writing, and correctly every single problem with it every single time, the paper could look like it was bleeding there would be so many red marks and circles! It's probably best to provide a measured amount of feedback each time you evaluate writing. Other teachers take expectations into consideration, and evaluate with "effort" in mind. You don't want to stifle writing, you merely want to shape and mold the skill as it grows and matures with your child.

You don't have to be perfect. My husband and I certainly aren't perfect. And yet somehow, remarkably, our children can write. Don't be afraid of evaluating English!





Do you enjoy these daily doses of high school homeschool wisdom? Sign up to get them delivered via email or reader!