Newbies Make EXCELLENT Homeschool Parents
Parents new to homeschooling, listen up! You and your spouse can be EXCELLENT homeschool parents, regardless of your skills, because you LOVE your child. That's what ensures your success. You want them to do well, and if you have a weak area, you can find resources for that. But because you love your child, you will be motivated to find those resources. A school teacher might not be as motivated to see an individual child succeed, because they have to focus on the entire group of children.
Christian parents, consider scriptural reasons why you can be an EXCELLENT homeschool parent.
Psalm 139:13-16
- Your child was given to you and was made for your family, so God knows you are the perfect person for this job.
Philippians 4:13
- You are capable. You can do ALL THINGS, even this.
1 Peter 4:8
- Love covers a multitude of sins. Even when things go wrong (and it will) your child will still be OK.
John 2:7-8
- Jesus gives step-by-step instructions for doing hard things. He doesn't command the end results (He will take care of that) but gives us nice, small, manageable steps.
Your abilities will not necessarily limit your ability to homeschool. Homeschoolers can be successful regardless of their culture or academic background. If you want to see statistics, and scientific reasons why this is true, you may want to look at this free class.
 Homeschooling - Why Homeschool Works with Dr. Jay Wile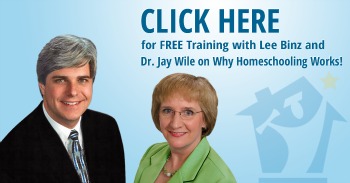 I know that socialization can be a big concern, but homeschooling is also an effective way to encourage children to develop friendships. You love your child and want him to have friends - you will make it happen. He or she will find friends on sports teams, friendship groups, at church, and in the neighborhood, just like when you weren't homeschooling. Children also tend to develop better social skills with a range of ages. Many children only know how to interact with people their own age, but your child will be able to be social with ALL age groups.
Be encouraged - I hope that helps!