Have you ever bought the
Total Transcript Solution
or The Easy Truth About Homeschool Transcripts?  Each time we make improvements, the new and improved version is available to you, no matter how long ago you made your purchase.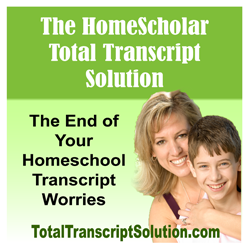 Recently we added a new bonus to the
Total Transcript Solution
: 
Surprise Bonus # 1 is the Emergency Transcript Solution
.  Designed to help the most-panicked parents, this is a quick, "just the basics" class that can give you a transcript in the least amount of time.  If you need a transcript in a mega-hurry, this is the answer.
If you have already purchased it, it's available here:
The Total Transcript Solution Downloads Page
.
Here is the information you will get, with all the information and handouts that will be available to you.



Surprise Bonus # 1!
Emergency Transcript Solution


Sometimes life sneaks up on you and you realize you need your transcript NOW!  Here is your checklist for making your "good enough" transcript in case of emergency.

1) Prioritize your transcript above all else

Don't do anything until it's done.  Don't do yard work,  laundry, or even wash dishes.  Order pizza for dinner until it's done.  The pizza-only diet and ordering-out expense can be VERY motivating!

2) Get a quick overview

Print these class handouts and then watch the "Making a Transcript" class

3)  Print handouts for your rough draft

The HomeScholar Planning Guide and The HomeScholar Transcript Template are all you need.

4)  Create your rough draft

Grab a pencil and a cup of tea with those printed forms, and then watch the "One Hour Transcript" webinar.  Follow along and take notes as directed.  Don't allow anything to distract you, just work for that one hour on your transcript.

5) Type it up

The class should guide you through the transcript rough draft.  All that is left is typing.  You will have something that is "good enough."   Open The HomeScholar Transcript Template again, and type your rough draft into the template. :

6) Edit, if time allows

If you have time, you can work on the nuances of your grades later, but this is a great start.  You will feel much better when you see it in print.

7) Submit your transcript

Give the transcript to the people who need it.  Print it or create a PDF to send it to them electronically.

8) Take a deep breath.... in... and out.... You're done!!

After you get it mailed off, please write me an note to let me know how this worked for you!
I hope this new feature will help!  I know that some parents do thorough research and plan years ahead, and other parents are flying by the seat of their pants, creating last minute transcripts during moments of panic.  I'm trying to help both kinds of parents :)  I don't judge parents or evaluate your students, I'm just trying to come alongside and help as best I can.

Learn the SECRET to getting your student placed at the TOP of the stack for college admission consideration as well as one of those MASSIVE university scholarships.  Get the Comprehensive Record Solution!