I'm very careful to balance my home and my work, so I have limited speaking events.  I hope you'll be able to meet me this year!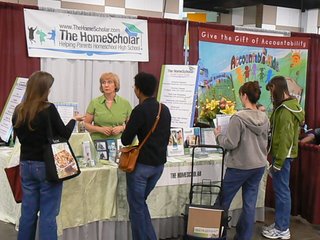 MidWest Homeschool Convention
in Cincinnati, Ohio March 31 - April 2 I'm speaking four times.  Here is the schedule of my talks
THURSDAY, 6:30PM - 7:30PM, "Making a transcript" in Duke 211
FRIDAY, 8:30AM - 9:30 AM, "High School Grades and Credits" in Duke 211
SATURDAY, 1:00PM - 2:00PM, "High School Grades and Credits" in Duke 211
SATURDAY, 4:00PM - 5:00PM, "High School Record Keeping" in Duke 211

CincinnatiHomeschoolConvention.com
Ultimate Homeschool Expo
Online
May 2-6, 2011
I'm talking about "College Scholarships for High School Credit" and "Homeschool High School: The "Why and How" for Every Child"
UltimateHomeschoolExpo.com
.
Washington Homeschool Organization Convention
in Puyallup, Washington
June 17 -18, 2011
I'll be presenting "Homeschool High School" and "Making a Transcript"
WashHomeschool.org
Oregon Christian Home Education Conference
at the Oregon Convention Center
June 24-25th
I'll be giving four presentations, but the topics are still to be determined.  Do you have a request?
OCEANetwork.org
Convention in Your Home
The Gold Care Club has Monthly Webinar on a wide variety of high school topics.  There is plenty of time to ask your questions with Gold Care Club monthly webinars!
Gold Care Club
If you prefer getting a package in the mail, you can purchase the "Convention at Home Kit" to receive a variety of products to hold in your hands and enjoy.
Convention at Home Kit
.
Planning for Next Year
I would love to speak at your group!  As I mentioned, I have to carefully schedule my time around the needs of my family.  If you would like me to speak at a convention near you, please ask the convention organizer to have me speak next year.  I would LOVE to meet you!  Find me on The Old Schoolhouse Speakers Bureau at
HomeschoolSpeakers.com
or email me.

Do you need a speaker at your next homeschool conference?  Talk to your conference coordinator about having me come.  I would love to meet you in person!  Here is a list of my speaking topics, or you can read my profile on the Homeschool Speakers Bureau.