I often get questions from homeschooling parents. Melissa had a question about how to list classes on a transcript when submitting to colleges.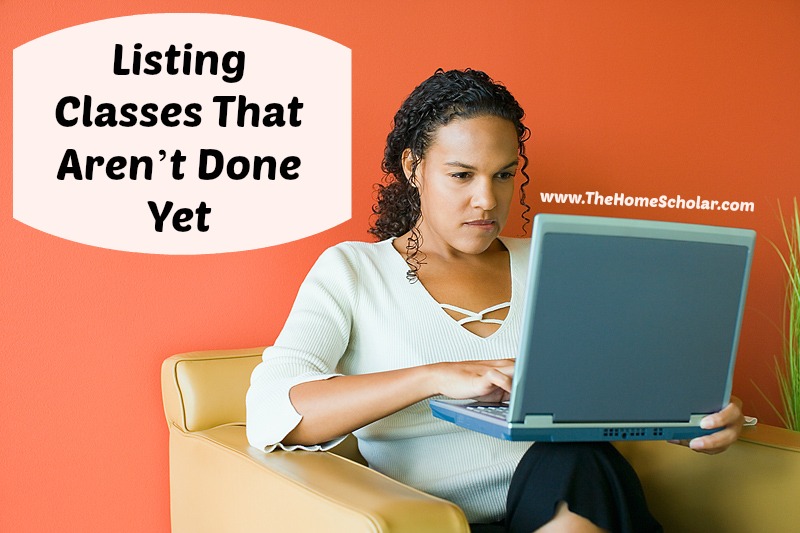 Listing Classes on a Transcript that Aren't Done Yet
I'm going to ask a dumb question. I need to send the transcript to a college this week and this is my first time sending one. How do I list the classes which have not been completed and for which I've not yet calculated a grade?  Some of them are required for admission but it's too early for them to be officially recognized. Also, do I calculate the summary of credits and GPA according to what has already been accomplished? She graduates in May and hopes to start college this fall. We're getting a late start with the admissions process. Our lives have been disrupted the last ten months with death and serious illness. The college which my daughter is interested in has been more than accommodating already, so I'm hesitant to ask them how they want to see the transcript. ~Melissa on Facebook
For including unfinished credits on a transcript, you can simply put TBD (to be determined) or IP (in progress) or a similar acronym. In a public school, they list classes but do not give the final grade until the class is done. To calculate GPA, count only the classes that are FINISHED. Some schools will also list "Credits attempted" to show how many more classes aren't done yet. I hope that helps! Do you have my book on
transcripts
? You can see examples on page 102 and 106.
Thank you so much!! Yes, I did buy your your book, printed it all out and slipped it into a notebook.* I call it my Transcript Bible.* It's been very helpful--for confirming what I thought and "holding my hand" throughout the process. The one thing I didn't expect after doing the transcript was that feeling of gratification. My daughter and I wish, now, that I had even done report cards during the elementary years that looked much like a transcript. Just one more thing to tell others coming up behind us. ~Melissa on Facebook

Please note: This post was originally published in March 2010 and has been revamped and updated for accuracy and comprehensiveness.
Read what others are saying about The HomeScholar Gold Care Club!