Labor day is a great time to try some of these recipes I found on Pinterest!
On the 4th of July, I made the 
Flag Cake
!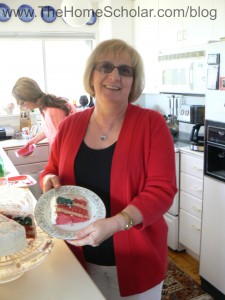 To continue with the Americana theme I also made 
white chocolate filled raspberries
 and 
red, white and blue strawberries
.  Of course I had to make brownies too, who doesn't love a good brownie? It was so fun!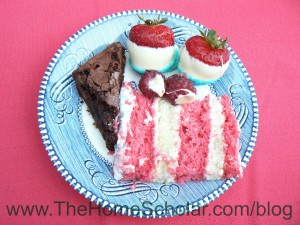 For labor day, I'm thinking about a watermelon theme.
This cake looks a little too vibrant, but how much fun would it be to make a 
Watermelon Flavored Cake
?  It would be fun to use cookie cutters and cut shapes into 
Watermelon 'Cookies'
.  I'm also looking at 
Whatta Melon Pops from Family Fun
, made from sorbet blended with mini chocolate chips.  There are some simpler, real fruit pops that look healthy:
Watermelon Pops
.
I suppose if I had all the time in the world, it would be fun to create a whole 
Watermelon Party
.  Sadly, my children have all grown up, so I have to be contented with playing on Pinterest.  Check out my 
Patriotic Party Ideas. 
Then you can glance at my Homeschool Pinterest Boards, and pretend like you weren't just daydreaming!
Do you have any fun Pinterest party dreams or successes?

Curious about The HomeScholar? Read more on our
About
Us
p
age
.