Do the kids have to have Physics or could they take Advanced Chemistry instead? My daughter doesn't have any desire at all to take  Physics and would rather take Advanced Chemistry instead. She is planning on going to college for Pre-Law so I didn't see any problem with that, but wasn't sure what colleges expect. Should I call her top 4 choices for school before getting her book to get her going on it?
~ Anita in IN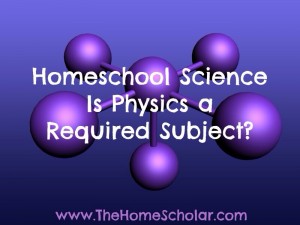 Is Physics a Required Subject?
All children do NOT need to take physics! I didn't take physics in high school, and I'm a registered nurse and had to take physics in college. NO, you don't have to take physics. Advanced Chemistry instead would be a great choice.
Unless kids are going into the science or engineering fields, you don't need to cover biology, chemistry, and physics in your homeschool. Colleges DO expect three years of science, but there are a wide variety of sciences to choose from. If she liked chemistry the first time, then advanced chemistry is a good choice. If she hated chemistry, then astronomy, geology, or botany might be a better choice.
It's always a good idea to check with your child's favorite colleges. Colleges can have some truly bizarre preferences, so do make sure you check with them. In general, physics is a fairly unusual science class to take in high school, and it's often recommended only for children who intend to major in the sciences in college. Pre-Law students often major in the humanities before going to law school. Political science, history, English, and other majors don't require physics.
Law school is difficult, but it's also a long way away. You can't begin law school until after you have completed a 4 year bachelor's degree. High school science shouldn't have much of an impact. So feel free to enjoy sciences your child takes delight in!
Which sciences are you teaching or planning to teach in high school? Please share!

Please note: This post was originally published in September 2010 and has been revamped and updated for accuracy and comprehensiveness.
Click here to read more about why teaching your high schooler is highly overrated.