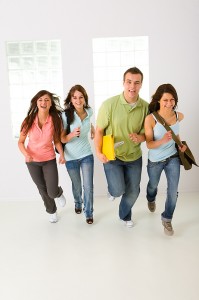 Seniors
– Fill out an application for College and Register for Tests
It normally takes a rather long time to finish a college application form. Get started right now, and mail the application in as soon as the colleges begin taking applications. Financial decisions could possibly turn out to be made "first come first served" and applying early might possibly enable you to obtain the most beneficial financial aid package. Sign up for
ACT test
by September 16th if you would like to take the test on October 22nd. Register for the
SAT
online well before September 9th if you would like your student to take the SAT or SAT II subject tests on October 1st.  This time of year, it's often the seniors who seem to take the SAT, while the younger students put emphasis on the PSAT instead.
Juniors
– Register now for the PSAT exam
The
PSAT
will be offered on Wednesday October 12 or Saturday October 15th this year. You will need to sign-up at a local high school, public or private. Get in touch with them as soon as possible to sign-up – at the very least by the first week of school. Word of caution: Students will have to take the PSAT/NMSQT in eleventh grade to meet the requirements for the National Merit Scholarship!  There is only one chance to take this specific exam each year, for that reason sign up now for the October test!
Sophomores
– Give some thought to taking the PSAT
You might choose to take the
PSAT
for practice, along with high school juniors. It won't be counted for the
National Merit Scholarship Competition
at this point, however it is great practice for next year, and at $13, it's a inexpensive approach to obtain a standardized test if required by your state. About fifty percent of the students who take the PSAT are actually sophomores.
Freshmen
– Opt for demanding curriculums!

Learn the SECRET to getting your student placed at the TOP of the stack for college admission consideration as well as one of those MASSIVE university scholarships.  Get the
Comprehensive Record Solution
!