Sometimes homeschooling begins wonderfully, but other times it can seem an overwhelming challenge.  What can you do if you don't WANT to homeschool but you feel guilty about it?
I tried homeschooling my 4 & 5 year olds. My daughter is a strong-willed little girl who stands up against authority figures. I don't feel called to home school this year mostly because last year went so badly and in the middle of the year I just stopped doing school by the book and focused more on my health goals. I registered them both for school. They will spend 45 mins each way on the bus. That means my boy in 1/2 day Kindergarten will be in school about the same amount of time on the bus. I can't help but feel a little guilt about not wanting to do it. I did a co-op for 4 months and hated it. I also have now a 2 year old who wants all of my attention which was very challenging when trying to teach as well. Any words of wisdom? I actually think others can teach my children the basics better than I can. I bring God into every aspect of our lives - but I don't feel cut out to homeschool my kids. Thanks for any thoughts.
~ Feeling Guilty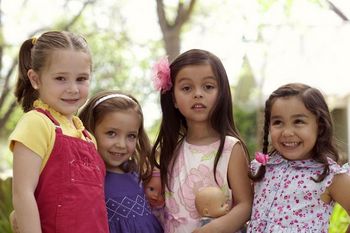 You don't have to do ANY formal education until 8 years old, when you are living in Washington. You can keep them at home and not even fill out a declaration of intent until they are 8.  Once they have been enrolled in school, then you do need to complete a declaration of intent, but that doesn't mean you have to get all intense and "schoolish."  For more information on Washington State Homeschool Law, please visit this website:
Washington Homeschool Organization
.
You might want to read the book for encouragement, "
Better Late Than Early: A New Approach to Your Child's Education
" on www.amazon.com.
You can try schooling gently and naturally, using literature. Instead of "doing school" you can just experience education. I love Sonlight Curriculum. Use their curriculum for 5 year olds, and it will only take about 1 hour per day, and you can share it between both kids. Perhaps you can do that during the nap time. Here is the link to
Sonlight
.
To handle babies and toddlers underfoot, my favorite tip is the book "Managers of Their Homes" by Teri Maxwell.  It made a HUGE difference in my life and homeschool.  In fact, that book is the reason why I have been (mostly) consistent with my quiet time, because she really focuses on putting God first and everything else will fall into place.  She is not as academic as I am, but I found that to be a nice balance, because I tend to do too much at times.  Here is the link to her
book
.
Guilt is a horrible feeling.  It's difficult to decide what to do, and many people will have strong opinions in opposite directions.  The best advice is what my midwife told me the day my oldest child was born.  She said, "Know your child and trust yourself."  Only YOU know your child and your situation.  Move forward without guilt, trusting your own judgment.
If homeschooling went that bad, then probably it was a curriculum mismatch, and you were using a curriculum that was great for someone else, but wasn't a good fit for you.  My guess is that you were making it more intensely academic than is necessary or desirable at that young age.   If you want to try homeschooling again, then completely change gears, and back away from the heavy academics to focus on the love of learning.
I hope that helps,

You can sign up for our free monthly newsletter here.