Homeschooling High School: When Should I Stop for Summer?
Summer break is important.  Homeschoolers don't usually  follow a regular school schedule, however.  How do you know  when to stop?  When does  being hardworking and persistent  become harmful?  At what point are you just hitting your head  against on the wall?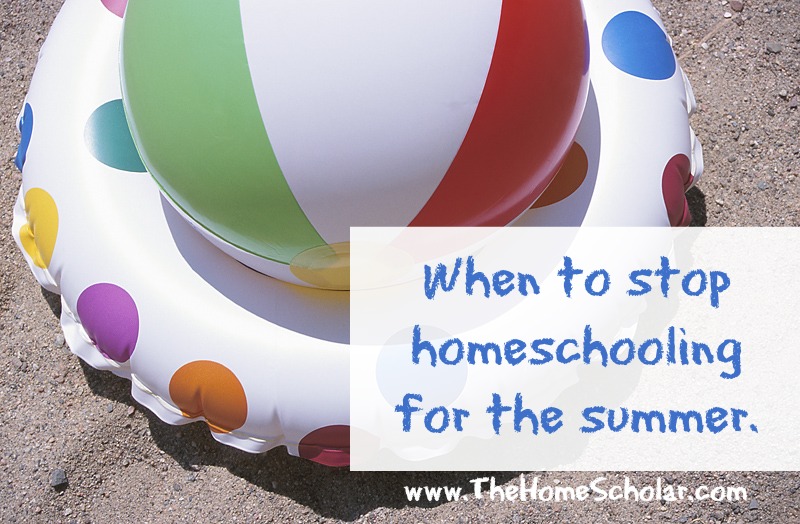 I know that public schools do not finish textbooks so I am trying to decide what to do. I see that my son is burnt out. I think he is in summer mode now plus a lot is going on in May. Should I have him just stop for a while? I know he must get through the Algebra 1 before he moves on to Geometry. Should I have him complete the whole text? I know he is not going to want to work on this during summer. Since this is his first year being homeschooled summer for him is the time off he is used to. Do you know what I mean? I have a headache.
~Karen in Florida
I would certainly take a summer break.  Although a couple of math problems for review might be helpful, it is vital to remember that a BREAK can be the most important part of summer.
About math,  how far along in the book are you?  I guess I would call the Teaching Textbooks support line, and ask them this question.  Perhaps they will tell you exactly which chapters are "optional." That would mean you don't have as far to go as you think.
Have you tried putting math first?  First in the day?  First in priority, so that nothing else happens until it's done?  Have you tried cutting down the number of problems required each day?   Have you tried doing a physically exhausting activity before AND after math?  Boys do better that way.  Bike rides - running - ANYTHING physical can help them buckle down and concentrate.
Most schools finish in June.  You might want to find out what day the public school ends, and put that on the calendar.  Until then, he might do a full lesson each day (first thing in the morning - no complaints allowed.) After school ends, then he might do just 5 problems per day "to keep your skills sharp over summer, honey, because we know how hard you worked to get those skills, and I don't want you to lose it."
You don't have to complete the whole text.  Set a goal of 80%.  Try to eliminate the parts of the book that are less valuable (using feedback from the company and author.)
Some homeschoolers will just STOP in June, and pick up the book in the same place in September.  That's hard though, to pick up math midstream like that, but it's an option to consider.
For right now, this moment, I suggest dropping the books and playing. You know, take a Tylenol, have a cup of coffee, go outside, do something physical, or take him for an ice cream.
Karen wrote back:
I like your advise in talking to the company and seeing what chapters are optional. I didn't know any chapters in a text were optional. I just want to make sure he is ready for geometry in the Fall.  I am going to go and get that coffee now or in my case a cup of tea.

We just looked on the teaching textbook website and he said "Hey let me just take the Algebra 2 placement test because that looks easy and then we will see what I know".  Calgon take me away. You got it kid.

Oh my goodness! He passed the algebra 2 placement with a 90%. Note to self: when your kids look frustrated it may be because they are just done and not because they don't understand the information.

By the way the younger one said, "If he is testing out I only have two more tests left can I test out too". Guess what? 95%. We are done with the books. Just reviewing in the summer.

~Karen

Read to what others are saying about The HomeScholar Gold Care Club!
Stay Informed
When you subscribe to the blog, we will send you an e-mail when there are new updates on the site so you wouldn't miss them.