Homeschooling High School? Remember When...?
Homeschoolers are a forgetful bunch.  Each new phase of homeschooling is often met with anxiety and uncertainty.  "Can I really do this?" is a common question, especially when approaching the high school years.  Yet, the Bible has a lot to say about remembering.  In fact, the theme of Deuteronomy is "remember."  Don't forget what the Lord has done.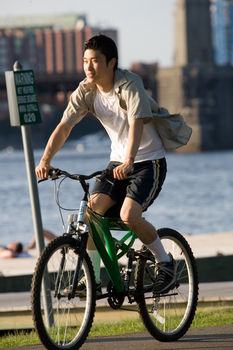 Deuteronomy 8:2
Remember how the LORD your God led you all the way in the desert these forty years, to humble you and to test you in order to know what was in your heart, whether or not you would keep his commands.
Don't forget what He has done is YOUR life as well.  Remember when you had babies, and they had trouble sleeping through the night.  Remember when  you had toddlers that physically stuck to you like glue.  Remember first grade, when you were terrified that your child may not learn to read.  Remember 3rd grade, when you began suggesting multiplication and cursive with fear and trepidation.
Remember when you taught your child to ride a bike without training wheels. They could have gotten seriously hurt - even WITH a helmet on!  And yet you managed to teach them. They learned and they survived the learning. Remember all those things when you are thinking about starting to   homeschool high school.  High school isn't any MORE difficult than  homeschooling any other age.  Toddler troubles aren't harder than baby  troubles - they are just DIFFERENT.  Each stage in life is different, and high school is just another new and different stage.  You'll learn to cope with this stage as well as you have learned to cope with the other stages.
Remember.  You survived.  You can do this too!

You can sign up for our free monthly newsletter here.
Stay Informed
When you subscribe to the blog, we will send you an e-mail when there are new updates on the site so you wouldn't miss them.
Comments
1
[...] This post was mentioned on Twitter by Ann Dunagan, Lee Binz. Lee Binz said: #homeschool parents of high schoolers should remember their homeschool successes. http://wp.me/pctmJ-Pq #homeschool [...]
[...] This post was mentioned on Twitter by Ann Dunagan, Lee Binz. Lee Binz said: #homeschool parents of high schoolers should remember their homeschool successes. http://wp.me/pctmJ-Pq #homeschool [...]