Homeschooling and Boy Scouts
Confession - my boys never did boy scouts.  The local public school had a group of truly rotten kids that I didn't want my boys to play with, so we never started the boy scout tradition.  But scouting is such a great activity!  Especially in high school!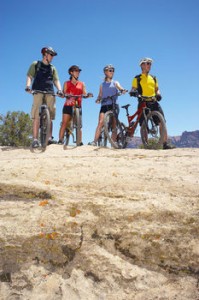 Some colleges have told me that an Eagle Scout is GREAT for college admission!  The military academies particularly love Eagle Scout candidate. It demonstrated leadership, physical fitness, volunteerism, and four-year stick-to-it-iveness.  Great stuff!  Some of the things teens do in scouting are actually high school classes - academics can be put on your high school transcript.
With students committed to earning their Eagle Scout, don't bother to count hours for PE.  If they are doing the camping/hiking, etc, then it WILL be one credit per year.  I suggest you count claim work when it is done as a high school student though, because otherwise it would be impossible to know it was high school level.
For the non-PE portions of scouting, collect all those badges and awards and projects. Estimate hours spent earning each.  See if you can group them together.  Sometimes kids may earn quite a few techie things (digital photography for example) that might be used to create a technology class along with a few other things.  Other kids will get a credit in fine arts, as they work towards some crafts, woodworking, digital photography, etc.
Kids that do scouting will often have FAR more high school credits than the average bear.  Toward the end of high school their parents may be thinking about strategies for making it look like you have FEWER high school credits, not more. For that reason, I would call it PE when they are high school age, and put it on the activity list each year of high school.  For the remainder of the fun, I would use it as a supplement for other classes as necessary, mentioning badges and things in the course description.

Are you ready to get serious about homeschooling high school?  Connect with me on Facebook and let's talk!
Stay Informed
When you subscribe to the blog, we will send you an e-mail when there are new updates on the site so you wouldn't miss them.
Comments
1
You can Lone Scout as a homeschooler. You don't have to join a troop. My son has done this, for the last three years. We join local merit badge days, workshops and camps that they council offers. But, for the most part, we do Boy Scouts on our own and I'm his Lone Scout Counselor and Friend. https://www.scouting.org/commissioners/lone-scout/
You can Lone Scout as a homeschooler. You don't have to join a troop. My son has done this, for the last three years. We join local merit badge days, workshops and camps that they council offers. But, for the most part, we do Boy Scouts on our own and I'm his Lone Scout Counselor and Friend. https://www.scouting.org/commissioners/lone-scout/