Homeschool Yearbook Solution
My writer and editor Jill Bell just graduated her high school senior (congratulations, Jill!)  I asked her to write a review of Total Yearbooks so I could see how it would work for a real homeschooler.  Guess what?  She LOVED it!  Read her review and see for yourself - this could be the solution for your homeschool yearbook too!
Total Yearbooks Review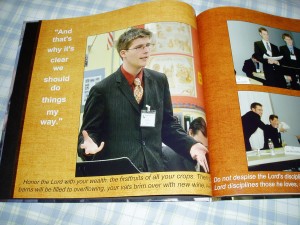 If you're like many homeschool moms, the photos you've taken of your family over the years are languishing somewhere in a box, or nowadays are more likely to be sitting in a folder on your desktop, not even printed out yet!  You envy your friends who display fabulous, colorful scrapbooks or baby books, complete with journaling and beautiful color photos embellished with the latest doohickeys.  Where do they find the time (not to mention the money) to do those things?!  Surely you must be a terrible mother, because you won't have a beautiful baby book to hand over to your future daughter-in-law, or a great high school yearbook to share at your son's upcoming graduation party.  What to do?



Although I have managed to produce a few scrapbooks of my children, and I even print out a few photos every so often at the local drug store, I am not the queen of memory-making, and I really wish I had some other ways to capture and record these fleeting memories of our family time together before my kids fly off to new nests.



When the opportunity to try out a new online resource for creating photo books came along, I decided to give it a try!  Total Yearbooks (www.TotalYearbooks.com) is an online program that allows you to upload your photos and create a variety of picture books, with over 100 page templates and multiple text options to choose from.  I decided to create that high school graduation yearbook (mentioned above), and chose a large (12 x 12) 20-page book option.  It was easy to upload my photos from my desktop, drop them into the templates I chose, and then add the text I wanted (the 'Help' button at the top of the page answered most of the questions I had as well).  The process didn't require me to have sophisticated computer skills (good), or tons of time (really good), and the results—well let me just say WOW!  After placing my order (and the prices are quite reasonable), my yearbook arrived a few days later in the mail.  The quality of photo paper, the hard cover durability, and the clarity of the photos was pretty impressive!



Although I didn't choose this option, you can even make your creations available for purchase online, and make a little profit!  I could see a homeschool club or class creating a yearbook here, and making it available for others to purchase as a fundraiser!  You can also share your photos from this website with family and friends, in a password-protected environment.  All in all, this is a great website, and I encourage everyone to try it out!


Jill Bell, Editor at The HomeScholar

Are you on Twitter?  Follow me here! 
Stay Informed
When you subscribe to the blog, we will send you an e-mail when there are new updates on the site so you wouldn't miss them.