It's time for another homeschool convention! The smell of curricula still brings back memories of homeschooling our two sons. The part of homeschool conventions that I enjoy most is seeing the faces of moms and dads as they reinvest in themselves. We need to remember that just as we invest in our children through their education so should we invest in our own knowledge as we homeschool the high school years. You'll find yourself refreshed and ready to take on the new school year!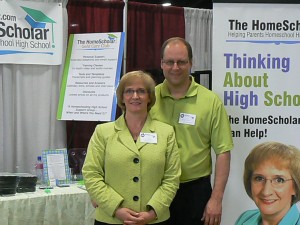 Are you in the Washington area? Join me on June 17th and June 18th at the
WHO Convention
at the
Puyallup Fair and Events Center
! There will be many opportunities for us to get to know one another.
Visit me and Mr. HomeScholar
at
Booth #**104
and in the following workshops: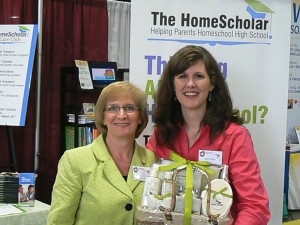 Friday, June 17th
Session B, 11:00 – 12:00
Room 2,
Homeschooling High School
Let me show you why you don't need to be afraid to homeschool high school.
We'll discuss the keys needed to ensure success!
Saturday, June 18th
Session A, 9:30 – 10:30
Room 2,
Making a Transcript
Transcripts are a hassle, so why bother? Because they are the love language of many colleges and a key to college admission and scholarships! Come learn the "why and how" of making a transcript!
Register for my giveaway gift. Trust me, it's always people who "never win" that win my free giveaways! We'll also have lots of information at our  booth about our
Parent Training Tools
, including our new
Parent Training A la Carte
!
Conventions are also fun because it gives us a chance to meet all of our long-distance homeschooling friends that we normally just get to connect with through email,
telephone consulting
, or
Gold Care Club
webinar events. Please come ready to say hello because we would love to see you!
For more information on the WHO Convention workshops, be sure to check out their
workshop schedule
.
See you in Puyallup!

I am now the Seattle Homeschool Examiner.  You can read my homeschool articles here