Homeschool Accountability - Try a "Morning Meeting"
Ooops.  They were supposed to be independent.  Instead they goofed off.
Never under-estimate a teenager's ability to avoid work.  Sometimes intentional lapses, many times teens are simply focused on other things (like their hair, or their new shoes) and they forget trivial things like math assignments or research reports.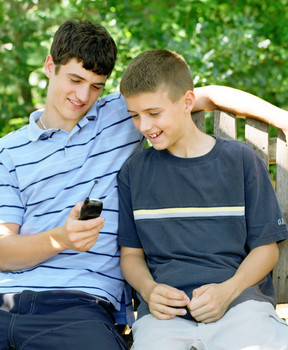 It would be nice to have teenagers grow up one day and suddenly just BE responsible.  Nice, but unlikely.  It's much more common for teenagers to slowly BECOME responsible.  It take a lot of time and a lot of practice, often with constant shaping and molding from their parents.  Kids don't start the first day of 9th grade as responsible adults.  The BEGIN the process of becoming responsible adults.
That's where the Morning Meeting idea can help.  When you check on your child each day, you can shape and mold their "responsibility index" each day.  A quick 15 or 30 minute check in can give you the time you need to assess the situation and correct the behavior, shaping and molding your child's responsibility as you go.
The Morning Meeting can help your child stay on task, so they don't "forget" school for a week - or a month!- and suddenly fall hopelessly behind.  A daily meeting is a great goal.  In practice, though, a day will be missed here and there.  We are all busy people with busy lives, after all!  But if you forget a day or two, you will still benefit.  Any meeting can provide feedback for children.  If you miss a few days, you will eventually return to the meeting and discover any missed assignments.
Even in "real life" after school, adults are often faced with frequent check-ups.  In our business, we attempt to have a daily meeting with our employees.  While it doesn't ALWAYS happen, it does USUALLY happen, and it can find any missed assignments.
If you tend to fall behind, or if you see your student overwhelmed by an insurmountable mountain of work, instituting a "Morning Meeting" can be the  perfect non-punitive answer.
Try having a quick morning meeting for a successful homeschool.

Read to what others are saying about The HomeScholar Gold Care Club!