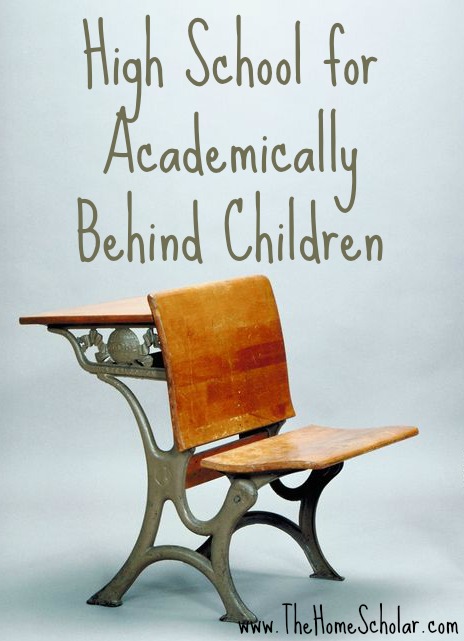 High School for Academically Behind Children
Remedial Subjects are Normal
Homeschoolers have normal children. They are good at some things, but not others. Great homeschoolers can have struggling learners. As hard as this is during elementary school, it Can be more distressing as you begin high school.
Keep the Big Picture in Mind
In the grand scheme of things, it can be helpful to remember that a full 30% of kids who attend college are at a remedial level. These academically behind students need remedial help in reading, writing, or math in order to perform well at college. That's 30% of children who applied to college and were admitted - that's a
lot
of kids. As distressing as this may sound, it also means your child is 
not
unusual in their current abilities. And thank goodness you have homeschooled and can see for your own eyes the great success you experienced!
When you have a child that is academically behind, transcripts don't have to be a challenge. Remember that in public school
all
 classes are included on the high school transcript, whether they are remedial or not. Mathematics or pre-algebra taken as a 9th grader would still go on the public school transcript. You can do this too! If your child is in 9th grade or above, put all classes on the transcript.
Don't Overwork the Academically Behind Subject
Don't overwork the weakest area, or your child will become more reluctant to learn. Cover the weak areas first, but don't double up on them. Overwork the child and they will end up hating homeschool, and can begin to hate learning. Instead, cover the weak area normally, using the normal amount of curriculum. On the transcript, remember to include everything your child does, because often delight directed learning may compensate for weak areas in English or any other subject.
These articles may help:
First Things First
Homeschool Blunder – Doubling Up!
How to Cope with Lack of Motivation in Teens  
 If you would like to talk about your child, academically behind or not, consider joining the 
Gold Care Club
. Gold Care Club members get 20 minutes of consultation each week, by phone or by email, whichever you prefer. Phone consultations are on Wednesday, but email consultations can be any day, Monday through Friday.