Hawaiian Holiday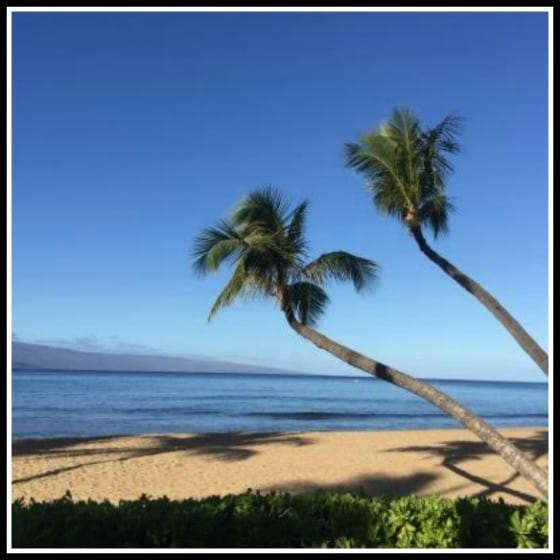 Hawaiian Holiday

My husband and I had a wonderful Hawaiian vacation in January! It was a great time to renew, refresh, rejuvenate, and regroup as we start the new year.
We stayed at the Ka'anapali Beach Hotel on Maui. It's a wonderful family-friendly place with a genuine Aloha feel. I love the banana trees where we watched the fruit ripen, the Taro Gardens, and the flowers falling from the trees.
​
We purchased our vacation through Costco Travel, and the package provided a fabulous breakfast buffet. So we had oatmeal each morning in the hotel, then took our 2 hour walk along the beach before it got too hot. Then we would have our "breakfast buffet" for lunch. That left only dinner - and almost every night we just made a sandwich in our hotel room, and then we would spend the evening on the patio, while my husband played his ukulele.
We went to a luau at Old Lahaina Luau and it's now our favorite luau! They did a great job of educating us about the history and culture of Hawaii. Still, I was glad I didn't have teen boys with me as we watched those grass skirts flying!
We took a whale watching tour, but only saw a few whales lounging around. You get soaking wet sometimes getting into the catamaran for whale watching and dinner cruises! Last year I was wearing cotton shorts and got soaked, so this year I was smart and wore quick dry wicking clothes for the boat ride and I was so happy I did!
We did see quite a few whales from shore, though! It's really exciting to see those huge splashes from the beach - really makes you want to scream "Whale Ho!" That's one reason we love to go to Maui in January- there are whales all over the place!
Being pale, sun-shy Seattlites, we invested in a beach cabana (like an umbrella with lounge chairs) so we weren't in the full sun all day. Mostly, we sat on the beach reading Michener's, Hawaii (not for kids, by the way) and running into the ocean off and on to body surf and snorkel.
The highlight of the trip was when we were snorkeling and we heard a whale singing while we were underwater! We took some underwater video, and you can hear the clicking of fish feeding, and about halfway through the short video you can actually HEAR the whales! I thought about singing back like Dory.... but I found out that humans can't actually sing underwater, LOL!
When I got home, my first thought was that I wanted to see my family, of course. So my parents and my children all came over for some Hawaiian food and little gifts I'd brought them. I bought a pineapple-scented candle in a coconut shell for a centerpiece, so the house would smell like Hawaii, and we played Pandora "Hawaiian Island Radio" for background music.
Balance and periods of rest are so important for us humans that even in the Bible, the Lord teaches us repeatedly to rest. What do you do to renew and refresh?
Stay Informed
When you subscribe to the blog, we will send you an e-mail when there are new updates on the site so you wouldn't miss them.