Happy Valentine's Day!
I hope you have a great Valentine's Day, and enjoy the love of your family!  I have a gift for you: a free webinar and ebook, 
Taking the Mystery Out of the ACT and SAT
!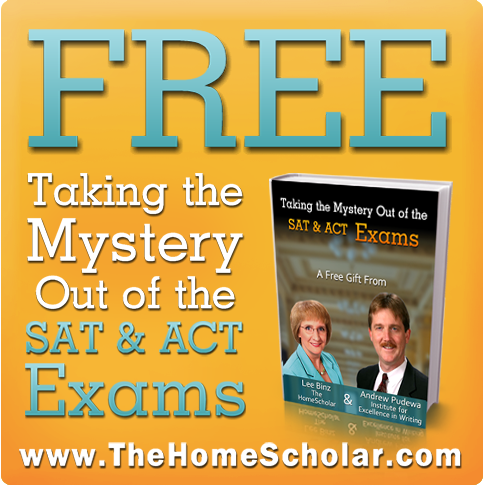 This is a 
FREE full length class, PLUS Ebook 
for you to print and save.
Many parents get stressed by the college preparation process, but you don't need to! Join me and Andrew Pudewa from the
Institute For Excellence in Writing
 as we share the secrets of successful test preparation.
In the first half of this webinar, I explain the differences between the SAT and ACT, and 
how to choose the right one
 for your student. We explore why homeschoolers have the advantage when it comes to these tests, and then discuss practical tips to help your student prepare for Test Day.
In the second half, Andrew explains powerful concepts behind successful essay writing, including 
specific components of high-scoring essays
. This is a real meat-and-potatoes class filled with useable information. If you have a student who plans to take these tests, you won't want to miss this information- packed webinar!
We also developed a companion ebook that covers the same material but the 
Ebook contains lots of helpful links
, so you can dig deeper into the subject.  This is one ebook that you will want to print out for future reference.
Get your free webinar and ebook, and start preparing today for test success!

PS.  You can find ALL my free resources here! 
HomeScholar Freebies