Happy Binder Building Day
Leanne is a reformed pyromaniac.  At the end of every school year, her policy was to torch all schoolwork.  A rite of passage, she would gather all her children's homeschool records, and they would celebrate with a giant bonfire.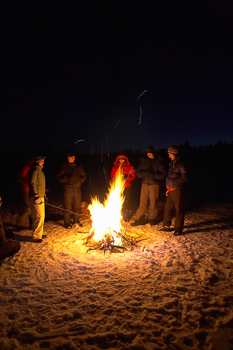 Thankfully, she realized that may not be her best option in high school! She came to my "High School Record Keeping" speech and gained a new appreciation for keeping high school records.  Completely reformed, she said she promised not to have a burning party again.
The following year she told me that her family has a new tradtion.  Instead of having their usual "Paper Burning Party" they have changed to a "Binder Building Day."  The collect the significant papers from the school year, and place them in binders arranged by subject.
What a great idea!  Turning drudgery into a party sounds GREAT!  Some parents don't regularly practice record keeping throughout the year. Instead, you can practice an annual record keeping strategy, filing at the end of each year.  If you can't get to it regularly, it only makes sense to accentuate the positive, and pretend like it's intentional.
We are mostly done (earlier than I had planned but my son and daughter were motivated) and this is the first year we won't be having our paper burning last day. Instead we'll be having our binder building last day. So thankful we meet last year.
~Leanne
Use a record keeping strategy that works for you.  Don't burn everything, but keep representative samples from each class, and lists of grades you provided.  When regular record keeping isn't an option, celebrate the end of the year with a "Binder Building Day" and then celebrate with ice cream.

Do you like getting this sort of help for homeschooling high school? Gold Care Club members get extended answers to their most challenging high school issues.
Comments
2
Those old Sonlight binders are huge and make a great Binder for high school stuff...
[...] This post was mentioned on Twitter by Mom E. Mom E said: RT @TheHomeScholar Y #homeschool parents need not torch their school wk @ D end of D year? http://3zj.hers.0sp.in #homeschool )) [...]
[...] This post was mentioned on Twitter by Mom E. Mom E said: RT @TheHomeScholar Y #homeschool parents need not torch their school wk @ D end of D year? http://3zj.hers.0sp.in #homeschool :))) [...]