Homeschoolers can get a diploma from a great online supplier, HomeschoolDiploma.com.  They provide diplomas for individual homeschoolers and for groups graduating together.  Parents can order a cap, gown, invitation, and diploma.  There are optional fun things as well - "bling" as my son says.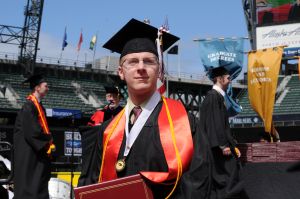 When my son graduated from the university, he had all sorts of bling.  White tassel for his Rhetoric minor, brown tassel for the School of Business and Economics.  Two orange cords demonstrating that he was Magna Cum Laude, Red Stole indicating that he was a University Scholar, and a Medallion on white ribbon because he was a member of Ivy Honorary National Honor Society.  It seemed like every graduate had some sort of bling.
"I was looking at a website that offered graduation items for home schoolers. There were medallions for Valedictorian, Salutatorian, Honor graduate, etc. My daughter will be graduating all of these since we are home  schooling. Can you comment on this? What do others have to say.  Thanks, Leslie"
It's a fun option.  When my children were involved in sports, some teams would have a huge to-do about everything.  Team jackets, team bat-bags, enormous trophies, and even towels with the team logo!  Others teams.... didn't.  Having bling is a fun option.  If it's  meaningful to you, and makes your child feel special, then there is not harm in it.
Valedictorian and Salutatorian are honors given for students who speak at a graduation ceremony.  My children didn't speak at their graduation.  We had our graduation in the back yard. My husband said a few words, blessed them, and handed them their diploma.   For that reason, I would only consider that for students who will be speaking before a group, but maybe that's just me being particular.
When we graduated our children from homeschool, they had already achieved a year of college through CLEP exams, and a year community college dual enrollment.   I didn't want to spend extra money on the "bling" because I was planning a large graduation  party. My boys wanted to keep things as manly and macho as possible, and I had a hard time even talking them into wearing a cap  and gown for their graduation party. I did put the "honors" sticker on their diplomas.  I'm not sure my children actually looked at their diploma, or read the sticker, but it was very meaningful to me.   I knew they had graduated with honors.  Since it meant that  much to me, it was worth it.

Learn the SECRET to getting your student placed at the TOP of the stack for college admission consideration as well as one of those MASSIVE university scholarships.  Get the Comprehensive Record Solution!