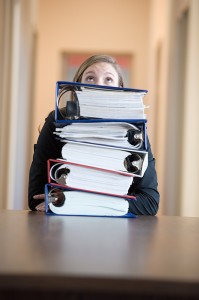 When you are pulling together a curriculum from free, online, or mix-and-match sources, it's hard to figure out what to put on a transcript - especially if you aren't using tests.  No matter what you use, these general guidelines may help.


For credit value




Give credit based on the number of hours worked.  Working about 45 minutes per day, 5 days a week, most of the school year, is a 1 credit class each year.  Working 15-30 minutes per day, 5 days a week, most of the school year, is about 1/2 credit per year.


For transcript grade




Give a grade based on general performance and general evaluation. Don't factor that in. Here are some ideas to consider:


1. Grade based on a function of annoyance:  A = you are not annoyed, B = pretty annoyed, C = very annoyed.


2. Grade based on moving on:  A = met your high expectations, B = didn't meet high expectations, but probably better than public school and C = not good, but kept moving on anyway


3. Grades based on his work: A = awesome, B = better do it again, C = come on, not even close!


4. Grade based on achievement: give an SAT Subject Test or other test at home, and give a grade based on the score.



Are you my
facebook friend
?   Please send me a friend request.  I would love to get to know you better.