Grades are Subjective
I understand that some homeschool parents feel uncomfortable giving grades, but grades are the love language of colleges. Some parents tell me they chose not to list grades on their children's transcripts, and that it was a mistake. They lost money in scholarships because they didn't list grades.  Avoid giving pass or fail grades which may be interpreted as a very low grade, and can lower the overall GPA.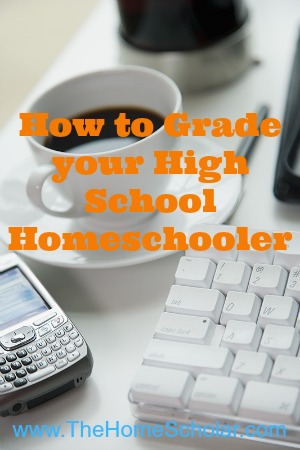 All grades are subjective. Teachers in public schools also give subjective grades, just like you.  Do your best to provide objective grades, and put grades on the transcript that you believe to be honest and true.  Giving this necessary information gives colleges the opportunity to award your child with admission and scholarships.
In addition to grades, include course credit values on your child's transcript. One high school credit represents one completed textbook or about 120-180 hours of work. If a class lasts half a year or around 75 hours of work, it is a half credit course. You don't have to meticulously count the hours, though. If your child is working about one hour per day for the school year, that is one credit. If your child is working about one hour per day for half the school year, then give them half a credit.
Have you taken my free class yet? I thin this class will really help!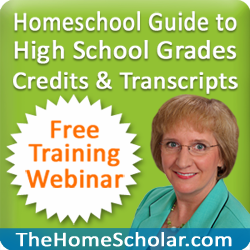 FREE Ecourse! A Guide to High School Grades, Credits and Transcripts 
Sometimes homeschooling high school can seem like a long and daunting journey.  There are challenges at every turn. How do I evaluate my children? How can I give grades that colleges will believe? How should I assign credits? Where can I get the answers I need? You don't have to be frightened, because in this one-hour training webinar I will answer all these questions and ease your fears. This course will cover all the essentials you need to know to calculate credits, determine grades and create your homeschool transcript. In this webinar you will learn 5 sure-fire ways to determine high school credit, how to let go of "grade anxiety," the 5 killer advantages of a properly-crafted homeschool transcript and 3 transcript pitfalls that can cripple your child's chances for college admission and scholarships. Learn, enjoy and relax so you feel confident!

Stay Informed
When you subscribe to the blog, we will send you an e-mail when there are new updates on the site so you wouldn't miss them.
Comments
No comments made yet. Be the first to submit a comment