Following Advice for 3 Years = College Admission and Scholarships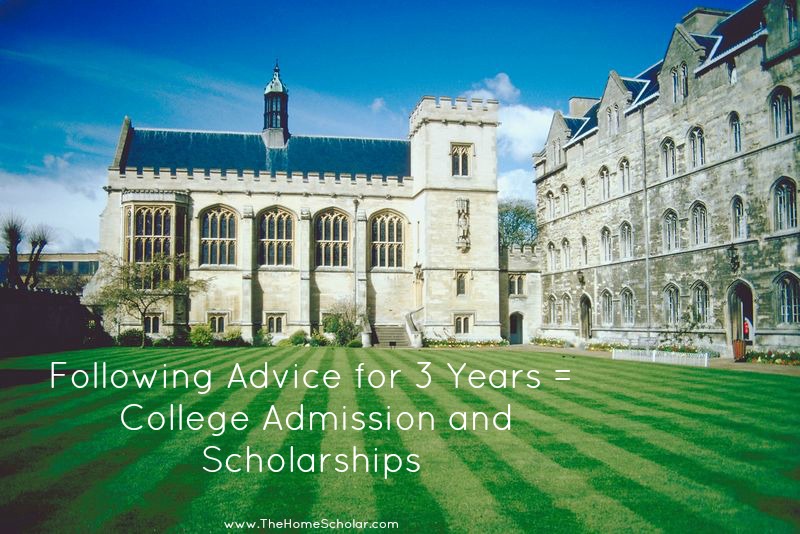 What is it like to homeschool? Great fun experiences and opportunities! And as the homeschool parent, you can put the academics awesomeness into your high school records. I just got a sweet letter from Kathy explaining how she used a hike up Mt. Fuji for a PE class, for example. Feel FREE to look outside the box, and do whatever works with your child to help them learn, and prepare them for college admission and scholarships!
 Read more about Kathy's experience and her story of college admission and scholarships!



Dear Lee,





It's hard to believe I have been following your advice for 3 years now! I began by purchasing

Setting the Records Straight

(which I recommend to all of my homeschooling friends).  Then I faithfully followed your other tips in your

blog

and your wonderful

Coffee Break eBooks

.  Last year I leaped into the

Gold Care Club

when you offered a wonderful year-end deal along with the purchase of the

Comprehensive Record Solution

.  I look forward to your posts and webinars, and I am so thankful for your willingness to mentor the homeschool community.





My family has just gone through the college application process for the first time.  Thanks to you, I felt very aware of what to expect, and confident in our coursework, preparation and transcript.  My husband stayed by my side through the hours upon hours of making everything perfect.  No matter how many times I looked over my course descriptions, there always seemed to be a typo or an inconsistency with how I laid things out!  In the end we have a beautiful package that we are very proud of.  It is wonderful to look back on the years of coursework and reflect on the variety of learning opportunities we've been able to provide for our children.  I praise God that we were able to add in "This course culminates with a hike up Japan's tallest peak, Mt. Fuji" in our "Outdoor Athletics" course description, and a WWII semester course primarily based on various WWII related field trips and books my daughter chose to read.  Thank you for giving me the peace to be creative!








This May our oldest daughter will graduate from high school.  It seems like all of the years have flown by, but the high school ones went especially fast.  We chose to send a full package, with a cover letter, school profile, table of contents, transcript and course descriptions to each college our daughter applied to, though none required anything other than the transcript. Her top three college choices have already sent acceptance letters with initial scholarship offers based on GPA and test scores, so now we are able to shift to financial aid/scholarship mode (along with finishing high school coursework).





Thank you for your time and energy! 

As a homeschooling mother, teacher, tutor and guidance counselor, I truly appreciate all you do!

  I do need to cancel my

Gold Care Club membership

for now, though I expect to begin it again in a couple of years, until my next child is closer to graduation.  Please know that I will continue to pass on your information to other homeschoolers.  Thank you again!





With joy,




Kathy in NE